Tools and Resources
McClennens: Useful Information for Students Writing in Spanish. Dr.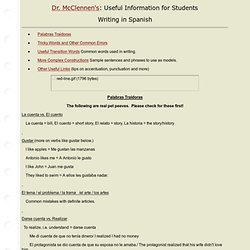 McClennen's: Useful Information for Students Writing in Spanish Palabras Traidoras Tricky Words and Other Common Errors Useful Transition Words Common words used in writing. More Complex Constructions Sample sentences and phrases to use as models. Other Useful Links (tips on accentuation, punctuation and more) Palabras TraidorasThe following are real pet peeves. Please check for these first! Cool Tools. [This is out of stock on Amazon.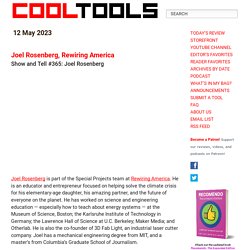 I can't find another source for this particular battery. If you know where to get them, please post in the comments. -- Mark] I've been a road warrior for years now, and have gone through over a dozen different Portable USB batteries – they have all either broken (Looking at you, fancy LiPoly chargers!) , I've lost them, or I outgrew their capacity. USA Visas, Immigration lawyers: EmigraciónLegal.
A través de su familia. La Ley de Protección del Estatus del Menor (CSPA, por sus siglas en inglés) enmendó la Ley de Inmigración y Nacionalidad (INA, por sus siglas en inglés) al cambiar quién cualifica como menor de edad para propósitos de inmigración.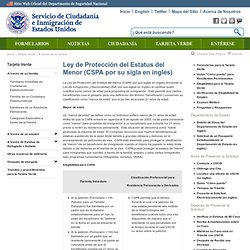 Esto permite que ciertos beneficiarios (vea el glosario para una definición del término "beneficiario") conserven su clasificación como "menor de edad" aun si ya han alcanzado 21 años de edad. Mayor de edad. Immigrants to the United States. About Submitting a Petition To apply for an immigrant visa, a foreign citizen must be sponsored by a U.S. citizen relative(s), U.S. lawful permanent resident, or by a prospective employer, and be the beneficiary of an approved petition.
A first step in the process is the sponsor filing a petition with U.S. Citizenship and Immigration Services (USCIS). A U.S. citizen can file an immigrant visa petition for: SpouseSon or daughterParentBrother or sister. Learn Portuguese - Portuguese Language - EasyPortuguese. Language Learning with Livemocha | Learn a Language Online - Free!
Tip of My Tongue - Chirag Mehta : chir.ag. The fucking word of the day | it's easier to learn with sex, drugs, and fucking swearing.
---