How To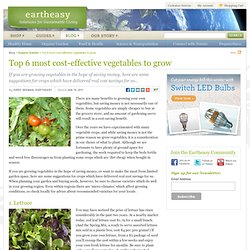 There are many benefits to growing your own vegetables, but saving money is not necessarily one of them. Some vegetables are simply cheaper to buy at the grocery store, and no amount of gardening savvy will result in a cost-saving benefit. Over the years we have experimented with many vegetable crops, and while saving money is not the prime reason we grow vegetables, it is a consideration in our choice of what to plant.
Welcome to COMPOSTING 101, Planet Natural's go-to guide for turning what unsuspecting folks call yard waste into garden magic. Here you'll find all you need to know about the best ingredients, containers, techniques, time-honored wisdom and common mistakes that will let you build the healthiest soil your plants will ever see. Want to learn even more about composting? Go to COMPOSTERconnection for detailed information and inside tips from successful composters. Want to skip the course and get started now?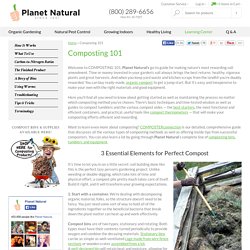 Composting 101 - How to Make Compost
GrowVeg.com is an online Garden Planner which helps you grow fruit and vegetables to the best of their ability, whatever the size or shape of your garden or plot. With GrowVeg.com it is easy to draw out your garden plan and decide how best to plant it. The GrowVeg.com Garden Planner software shows how much space plants require and how to group them for maximum success, removing the need to look up planting distances and crop families. Growing advice is just one click away as you select the plants that you wish to include, enabling you to solve problems and maximise your harvest from the space you have. An annual subscription costs just $25.
GrowVeg.com - The Smart Way To Plan Your Vegetable Garden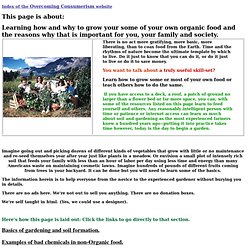 How to Grow Your Own Organic Vegetables for Frugal Sustainability
The Future is Abundant A great page about the philosophy and science of growing your own food in a sustainable fashion. Here's what can be done by a dedicated and hardworking family. 1/10 of an acre in the middle of the city. "Let's face it.
How to grow Vegetables, Vegetable Gardening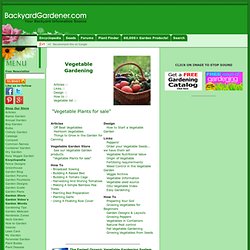 "Vegetable Plants for sale" THE work of planning the garden in as much as it consists in deciding what and how much we shall plant and where we shall plant it-may very well be done long in advance of the season of active operations. Indeed, it is a distinct and pleasurable advantage to make the long winter evenings supplement the long summer days by devoting a portion of them to the seed catalogs and other garden literature.