Tutorials, tips etc
So what's all the fuss about Bias Tape Makers...? ...They will CHANGE YOUR LIFE, that's what!!!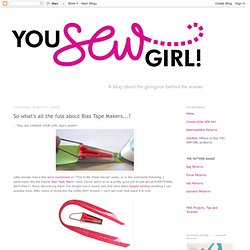 Little wonder that a few were mentioned on "This Is My Trade Secret" posts, or in the comments following. I particularly like the Clover Bias Tape Maker (well, Clover seem to do a pretty good job of just about EVERYTHING, don't they?). Since discovering them I've bought one in every size and have been happily binding anything I can possibly bind. After years of doing this the LONG WAY around, I can't get over how quick it is now. A bias tape maker makes perfect bias tape in the fabric of your choice, and makes it so that the seam allowances go ALL THE WAY TO THE CENTRE (unlike the store-bought variety), so there's little chance of fraying edges if you go a little bit wobbly with your stitching!! Nicole Mallalieu Design - Tips and Tutorials for Making Bags and Purses.
Tips & Tutorials Back to top VIDEO TUTORIAL - How to set in eyelets with a setting tool.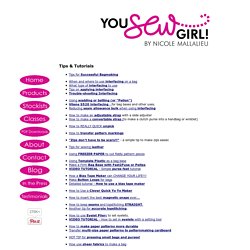 Tutorials. New here?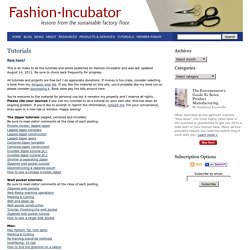 This is an index to all the tutorials and series published on Fashion-Incubator and was last updated August 14, 2012. Be sure to check back frequently for progress. All tutorials and projects are free but I do appreciate donations. Installing an Invisible Zipper. Zippers can be daunting even for experienced sewers.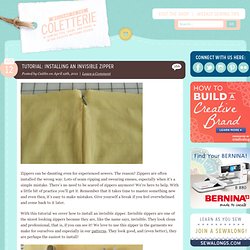 The reason? Zippers are often installed the wrong way. Lots of seam ripping and swearing ensues, especially when it's a simple mistake. There's no need to be scared of zippers anymore! We're here to help.
---