Twitter in the Classroom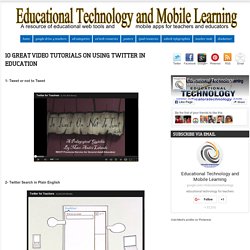 To tweet or not to tweet is the question. This is the title of one great short video I shared in the list below. Though the question sounds philosophical but it is purely explanatory and illustrative.
twitter in the classroom - Google Scholar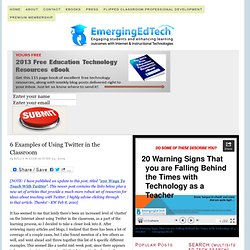 [NOTE: I have published an update to this post, titled "100 Ways To Teach With Twitter". This newer post contains the links below plus a new set of articles that provide a much more robust set of resources for ideas about teaching with Twitter. I highly advise clicking through to that article.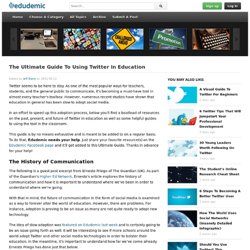 Twitter seems to be here to stay. As one of the most popular ways for teachers, students, and the general public to communicate, it's becoming a must-have tool in almost every teacher's toolbox. However, numerous recent studies have shown that education in general has been slow to adopt social media.
Social media offers some great opportunities for learning in the classroom, bringing together the ability to collaborate, access worldwide resources, and find new and interesting ways to communicate in one easily accessible place. Teachers and educators around the world have found innovative ways to use Twitter as a teaching tool, and we've shared many of these great ideas here with you. Read on, and we'll explore 60 inspiring ways that teachers and students can put Twitter to work in the classroom. Communication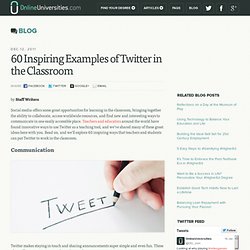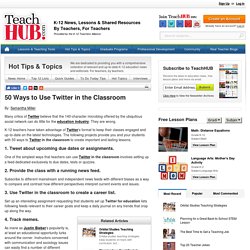 Many critics of Twitter believe that the 140-character microblog offered by the ubiquitous social network can do little for the education industry. They are wrong. K-12 teachers have taken advantage of Twitter's format to keep their classes engaged and up-to-date on the latest technologies. The following projects provide you and your students with 50 ways to Twitter in the classroom to create important and lasting lessons. 1.
5 Unique Uses of Twitter in the Classroom
Social media has found a prominent place in the college classroom. In fact, nearly 80 percent of faculty members are using social media in some way, according to a recent survey of nearly 2,000 college faculty by the Babson Survey Research Group published in April. While some platforms, such as YouTube, have been widely accepted in the classroom, Twitter has been slower to catch on as a teaching tool. In the same survey, only 2 percent of professors reported using the microblogging site—which limits posts to 140 characters—in class. [Read about Twitter in the college classroom.] Jim Newman, a Ph.D. student and instructor at Northern Illinois University, says that he uses Twitter not as a news source for his class but as a bulletin board.