The Human Body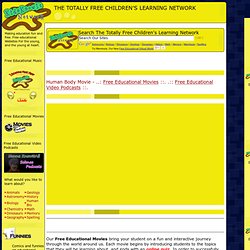 Human Body Movie - Free Educational Movies - The KidsKnowIt Network
Our Free Educational Movies bring your student on a fun and interactive journey through the world around us. Each movie begins by introducing students to the topics that they will be learning about, and ends with an online quiz. In order to successfully complete each online video, your student must watch, and then successfully answer the quiz questions with 80% or higher accuracy. Students who do not obtain 80% comprehension will be instructed to watch the movie a second time, and then again try to answer the quiz questions.
Anatomy Arcade makes basic human anatomy come ALIVE through awesome free flash games, interactives and videos. Anatomy Arcade is perfect for the novice teenager in the classroom, right through to students and professionals of health care looking for a fun way to revise. With the help of Media Saints, we plan on making many more iPad apps. Poke-A-Muscle is next followed by a digestive game called Eat Me and eventually a very exciting, whole body system game called Machine Man!
Interactive Diagrams - Science, Social Studies, History and Geography
Free interactive educational elementary science activities for kids online - interactive science games - facts on the solar system, space, planets, human body, mammals, and animal classification
WebGL not supported This product uses WebGL, which your browser does not appear to support. Possible reasons: Your Web browser actually doesn't support WebGL.Check this page for a list of browsers that do.Your video driver or operating system is not supported.To ensure fast performance and prevent crashes, some browsers that support WebGL deactivate it for particular video driver and operating system versions.