Google+ in Education
Google+ How to Use Google Plus Social Network for Education. Google Plus and education. Google Plus Today a group of us discussed Google Plus for education.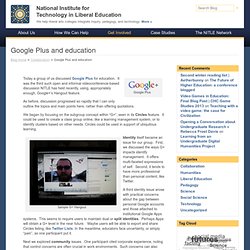 It was the third such open and informal videoconference-based discussion NITLE has held recently, using, appropriately enough, Google+'s Hangout feature. As before, discussion progressed so rapidly that I can only outline the topics and main points here, rather than offering quotations. We began by focusing on the subgroup concept within "G+", seen in its Circles feature. It could be used to create a class group online, like a learning management system, or to identify clusters based on other needs. Plus and K12 education. Yeah, this was a major letdown, to find that it had been lit up for all Apps users, EXCEPT K12.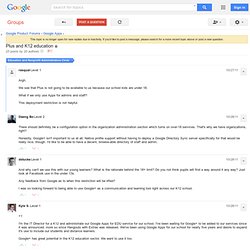 I'm with Rasqual on this one. Currently just have admin staff using Apps, not students, and Plus would be a perfect fit for much of the ad-hoc communications between groups/committee people via circles, as would hangouts and such of course, but we aren't given the choice of implementing any of it because of an age restriction that doesn't exist. With a policy of not having any staff under the age of 18 anyway, there's no chance of us having an account given to anyone under 18, yet we're stuck be the one segment still unable to use it. 30 Ways Colleges Are Using Google+ Right Now. Google+ For Educators. Google Plus: Is This the Social Tool Schools Have Been Waiting For? There seem to be three forces at play when it comes to education and social media.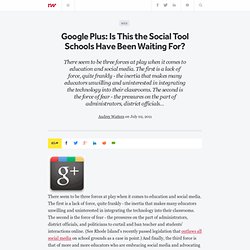 The first is a lack of force, quite frankly - the inertia that makes many educators unwilling and uninterested in integrating the technology into their classrooms. The second is the force of fear - the pressures on the part of administrators, district officials, and politicians to curtail and ban teacher and students' interactions online. (See Rhode Island's recently passed legislation that outlaws all social media on school grounds as a case in point.) And finally, the third force is that of more and more educators who are embracing social media and advocating its use on- and off-campus - for student learning and for teacher professional development alike.
---