Facebook in the Classroom
Facebook for educators. Facebook Strategies For The Classroom. The Why and How of Using Facebook For Educators – No Need to be Friends At All! If you are one of those out there that believe that Facebook has no place in the classroom, then, well maybe this post isn't for you.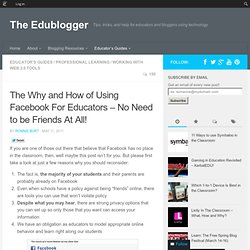 But please first take a look at just a few reasons why you should reconsider: The fact is, the majority of your students and their parents are probably already on FacebookEven when schools have a policy against being "friends" online, there are tools you can use that won't violate policyDespite what you may hear, there are strong privacy options that you can set up so only those that you want can access your informationWe have an obligation as educators to model appropriate online behavior and learn right along our students. 100 Ways You Should Be Using Facebook in Your Classroom. Facebook isn't just a great way for you to find old friends or learn about what's happening this weekend, it is also an incredible learning tool.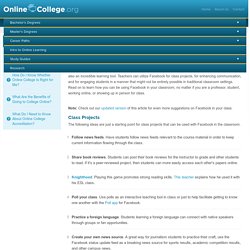 Teachers can utilize Facebook for class projects, for enhancing communication, and for engaging students in a manner that might not be entirely possible in traditional classroom settings. Read on to learn how you can be using Facebook in your classroom, no matter if you are a professor, student, working online, or showing up in person for class. 50 Reasons to Invite Facebook Into Your Classroom. Teaching Strategies Uncategorized Lenny Gonzalez Editor's Note: It's not an easy decision to bring Facebook into the classroom.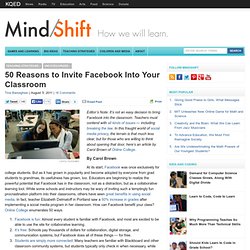 Teachers must contend with all kinds of issues — including breaking the law. In this fraught world of social media privacy, the terrain is that much less clear, but for those who are willing to think about opening that door, here's an article by Carol Brown of Online College. Facebook In The Classroom. Seriously. Do Popular Social Networking Applications Have A Place In The Classroom?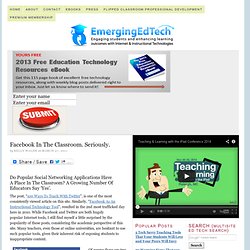 A Growing Number Of Educators Say 'Yes'. The post, "100 Ways To Teach With Twitter", is one of the most consistently viewed article on this site. Similarly, "Facebook As An Instructional Technology Tool", resulted in the 2nd most trafficked day here in 2010. Facebook in the classroom - Google Scholar.
---