Unit studies
Intellego Unit Studies - CurrClick - Curriculum and live classes in a click! Affordable curriculum, online classes, lapbooks, and homeschooling resources. We offer two product lines for your convenience: Our Core Curriculum Series provides a COMPLETE curriculum for the core social studies and science subjects.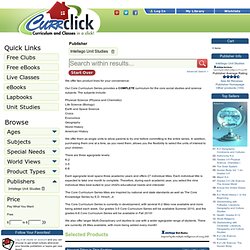 The subjects include: Physical Science (Physics and Chemistry)Life Science (Biology)Earth and Space ScienceCivicsEconomicsGeographyWorld HistoryAmerican History We offer them as single units to allow parents to try one before committing to the entire series. In addition, purchasing them one at a time, as you need them, allows you the flexibility to select the units of interest to your children. Lesson Plans – Google Apps for Education. 500+ Creative Lessons To Teach Almost Anything. Educational Videos and Games for Kids about Science, Math, Social Studies and English. Unit Study Index - Unit studies, literature units, literature-based unit study, topical unit studies, free unit studies, free unit study, homeschool unit study, homeschool unit studies, thematic units, thematic unit studies.
Recital Harry Brooker This is the index of all of the free unit studies available on EasyFunSchool.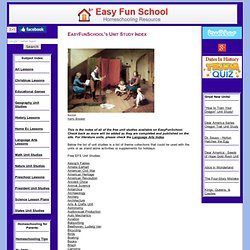 Check back as more will be added as they are completed and published on the site. For literature units, please check the Language Arts Index.
---