Math
Mathemagics for iPhone and iPad review. While at WWDC 2012, I had the opportunity to sit down with Shane Crawford of Blue Lightning Labs and take a peak at his Mathemagics apps, Mental Math Tricks and Easy Algebra Fast.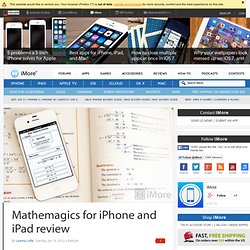 These app are design to teach you special rarely taught tricks and tips that can be used when solving different types of math problems. Most of the techniques can be done mentally and make it possible so solve math problems at lightning speeds. Both apps have the exact same design and method of use which is why I'm reviewing them together. The only real difference between them is the subject matter -- Mental Math Tricks is arithmetic and Easy Algebra Fast is algebra. There are three different modes in Mathematics: Lessons, Practice, and Play. Math Worksheet Creator.
Multiplication Worksheets | Multiple - Digit Multiplication Worksheets. Vertical Format This Multiplication worksheet may be configured for 2, 3, or 4 digit multiplicands being multiplied by 1, 2, or 3 digit multipliers.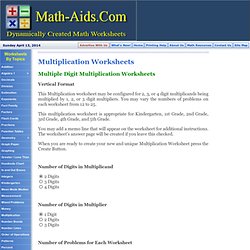 You may vary the numbers of problems on each worksheet from 12 to 25. This multiplication worksheet is appropriate for Kindergarten, 1st Grade, 2nd Grade, 3rd Grade, 4th Grade, and 5th Grade. You may add a memo line that will appear on the worksheet for additional instructions. Multiplication Worksheets | Multiplication Worksheets for Lesson Plans. Dynamically Created Multiplication Worksheets for Teachers Here is a graphic preview for all of the multiplication worksheets.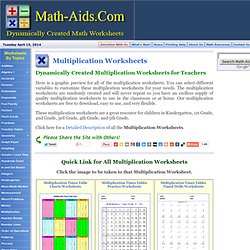 You can select different variables to customize these multiplication worksheets for your needs. IXL. Free 5th grade math worksheets. Randomly generated, printable from your browser! Multiplication Worksheets. We have multiplication sheets for timed tests or extra practice, as well as flashcards and games.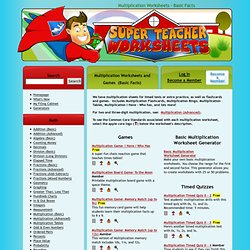 Includes Multiplication Flashcards, Multiplication Bingo, Multiplication Tables, Multiplication I Have - Who has, and lots more! To see the Common Core Standards associated with each multiplication worksheet, select the apple core logo ( ) below the worksheet's description. Games Multiplication Game: I Have / Who HasFree.
---