Website
5 Ways to Speed Up Your Site. Speed kills.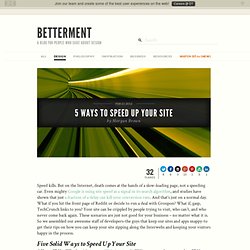 But on the Internet, death comes at the hands of a slow-loading page, not a speeding car. Even mighty Google is using site speed as a signal in its search algorithm, and studies have shown that just a fraction of a delay can kill your conversion rate. And that's just on a normal day. What if you hit the front page of Reddit or decide to run a deal with Groupon?
What if, gasp, TechCrunch links to you? Best Practices for Speeding Up Your Web Site. The Exceptional Performance team has identified a number of best practices for making web pages fast.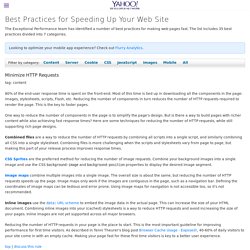 The list includes 35 best practices divided into 7 categories. Minimize HTTP Requests tag: content. Guidelines for Writing a Good About Page. The About page—just about every single website has one.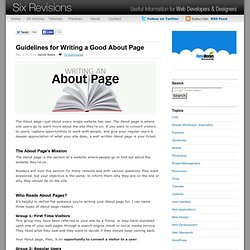 The About page is where site users go to learn more about the site they're on. If you want to convert visitors to users, capture opportunities to work with people, and give your regular users a deeper appreciation of what your site does, a well written About page is your ticket. The About Page's Mission The About page is the section of a website where people go to find out about the website they're on. Readers will visit this section for many reasons and with various questions they want answered, but your objective is the same: to inform them why they are on the site or why they should be on the site. 12 of the Best About Us Pages on the Internet | Blog Tyrant – Dominating the Blogosphere. By: Ramsay | 105 intelligent opinions, add yours Something that I have wanted to do for a long time is take a look at the web's best About Us pages.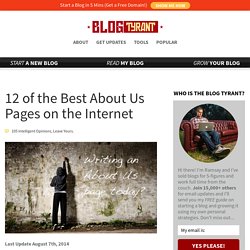 Why? Because a good About Us page is very hard to come by. 8 Quick Tips for Writing Bullet Points People Actually Want to Read. Recapping the 5 Keys to Brand Discovery. Last week, the Paid Discovery team hosted the "5 Keys to Brand Discovery" webinar.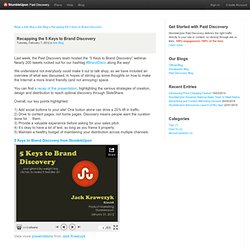 Nearly 200 tweets rocked out for our hashtag #BrandDisco along the way! We understand not everybody could make it out to talk shop, so we have included an overview of what was discussed, in hopes of stirring up some thoughts on how to make the Internet a more brand friendly (and not annoying) space. You can find a recap of the presentation, highlighting the various strategies of creation, design and distribution to reach optimal discovery through SlideShare. Overall, our key points highlighted: 1) Add social buttons to your site! HOWTO: Get traffic to your website the right way. There are thousands of sites out there that will sell you hits to your website.
The big ones you may know are Google, and Overture etc. However, these are mostly overpriced as they work on a bidding system where you bid against others on keywords. For example, if you type "Christian Web Hosting" on Google you get all those links on the right and the top. Eight Easy Backlinks from Social Media Profiles | Hostway Web Resources | Hostway Web Solutions. Link-building is one of the most important activities you can do to maximize search engine optimization (SEO) for your website; it's also one of the most daunting.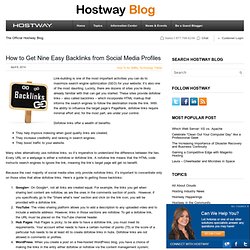 Luckily, there are dozens of sites you're likely already familiar with that can get you started. These sites provide dofollow links – also called backlinks – which incorporate HTML markup that informs the search engines to follow the destination inside the link. With the ability to influence the target page's PageRank, dofollow links require minimal effort and, for the most part, are under your control.
eCommerce. Drupal Modules. How to Make the Best Use of An Email Signature. So many times email signatures are an afterthought and not really looked at as an opportunity to sell.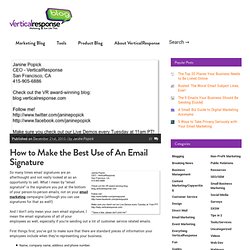 What I mean by "email signature" is the signature you put at the bottom of your person-to-person emails, not on your email marketing campaigns (although you can use signatures for that as well!) And I don't only mean your own email signature, I mean the email signatures of all of your employees as well, especially if you're sending out a lot of customer service related emails. First things first, you've got to make sure that there are standard pieces of information your employees include when they're representing your business. Name, company name, address and phone number.Twitter and Facebook links and encourage people to follow you.Website and blog address.
There are also some creative ways you can utilize the email signature portion of your emails that might not be "necessary" but could be fun to add as well as help increase your sales! 12 Steps to a Better Landing Page – Infographic. Loved the latest YouMoz post on SEOmoz by Oli Gardner (Co-Founder of Unbounce.com) who combines 2 of our favorite topics together: Infographics and Landing Pages.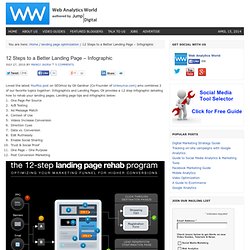 Oli provides a 12 step infographic detailing how to rehab your landing pages. Landing page tips and infographic below: One Page Per SourceA/B TestingAd Message MatchContext of UseVideos Increase ConversionDirection CuesData vs. ConversionEdit RuthlesslyEnable Social SharingTrust & Social ProofOne Page – One PurposePost Conversion Marketing. The Five Elements Your Website Must Have, No Matter What | Seth Leonard. How it works. AdBrite functions like a well-oiled machine.
A well-oiled machine that works because of the really, really smart people who run it. Our engineers have created an open architecture that combines a dizzying array of algorithms and terabytes of data to create an online auction between advertisers and publishers. All those algorithms determine the particular combinations of ads, inventory and people that will generate the best advertiser ROI and publisher yield in our exchange. Font Image Generator - Create images from text.
---