eCommerce
Drupal ECommerce : Ubercart and Paypal. Want the Full Drupal E-Commerce Solution?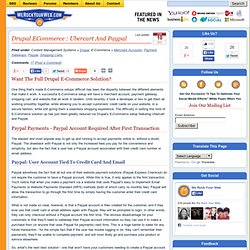 One thing that's made E-Commerce setups difficult has been the disparity between the different elements that make it work. A successful E-Commerce setup will have a merchant account, payment gateway, shopping cart, and website that all work in tandem. Until recently, it took a developer or two to get them all working smoothly together, while allowing you to accept customers' credit cards on your website, in a secure fashion, while still giving them a seamless shopping experience. The difficulty in setting this kind of E-Commerce solution up has just been greatly reduced via Drupal's E-Commerce setup featuring Ubercart and Paypal. Ubercart. Ubercart is the most popular Drupal E-Commerce platform for your website.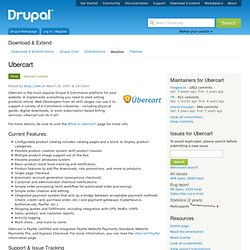 It implements everything you need to start selling products online. Web Developers from all skill ranges can use it to support a variety of E-Commerce industries-- including physical goods, digital downloads, or even subscription based billing services. Instant Downloadable Digital Goods eCommerce with PayPal - PayLoadz Express. PayPal - the safer, easier way to pay online.
---