Computer Science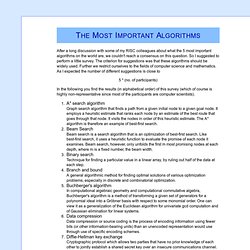 After a long discussion with some of my RISC colleagues about what the 5 most important algorithms on the world are, we couldn't reach a consensus on this question. So I suggested to perform a little survey. The criterion for suggestions was that these algorithms should be widely used. Further we restrict ourselves to the fields of computer science and mathematics. As I expected the number of different suggestions is close to 5 * (no. of participants)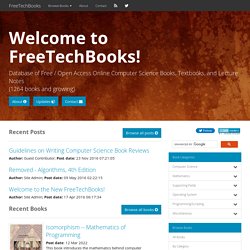 What's Inside? This site lists free online computer science, engineering and programming books, textbooks and lecture notes, all of which are legally and freely available over the Internet. Throughout this site, other terms are used to refer to a book, such as ebook, text, document, monogram or notes. What's the Catch?
SCOPE - Augmented Reality Toys.v3 on Vimeo
Linux on board: This old box: Home automation using X10
Understanding X10 The X10 protocol is a fairly primitive tool for transmitting data over power lines. Perhaps because it is fairly primitive, it's also fairly robust, although a good line filter or surge suppressor can probably defeat it.