Scottstaunton
iThoughts (mindmapping) for iPhone, iPod touch, and iPad on the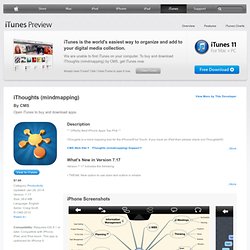 Description ** O'Reilly Best iPhone Apps Top Pick ** iThoughts is a mind mapping tool for the iPhone/iPod Touch. If you have an iPad then please check out iThoughtsHD. Use a Mac? Click on the 'Developer Website' link and take a look at iThoughtsX.
Your Company in Michigan | Michigan Economic Development Corpora
Business - Michigan Business One Stop
Guide_to_Starting_a_Small_Business_271487_7.pdf (application/pdf
Mecosta County is conducting a sealed bid auction for: -2010 Ford Crown Vic with 132,637 miles -2006 Ford Crown Vic with 101,605 miles -Chevy Express G2500 Cargo Van with 260,000 miles. Interested parties may view and inspect the vehicles on Tuesday, Dec. 3, 2013 from 6pm to 7pm at the Mecosta County Services Building in Big Rapids.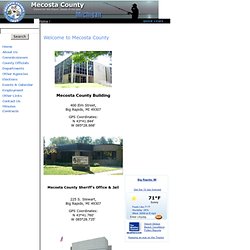 Mecosta County ::: Home
Mecosta County ::: County Officials
Mecosta County ::: Other Links
Mecosta County ::: About Us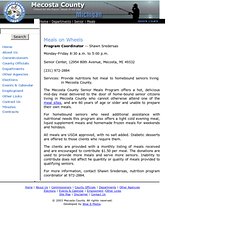 Program Coordinator -- Shawn Sredersas Monday-Friday 8:30 a.m. to 5:00 p.m. Senior Center, 12954 80th Avenue, Mecosta, MI 49332
Mecosta County ::: Meals on Wheels
Mecosta County ::: Commission on Aging and Senior Center
Mecosta County ::: Youth Attention and Runaway Services
Accelerating Michigan Entrepreneurs Michigan's Online Business Incubator Accelerating Michigan Entrepreneurs (AME) is dedicated to helping business owners set strategic direction, improve leadership and people skills, be more productive, and grow revenues. We use Internet-based communication tools and this web portal to provide mid- to long-term counseling and coaching that result in solutions and growth for small businesses in Michigan. Please review the Benefits tab for a complete description of benefits and check out the AME brochure to get a complete list of our services.
Home - AME
Grand Valley State University
SCORE Main Page
Small Business Administration - Microloan Program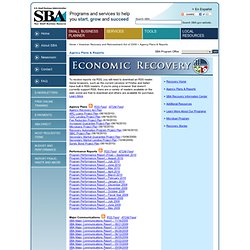 To receive reports via RSS, you will need to download an RSS reader. Some browsers, such as the current versions of Firefox and Safari have built in RSS readers. If you're using a browser that doesn't currently support RSS, there are a variety of readers available on the web; some are free to download and others are available for purchase. Learn More Agency Plans RSS Feed ATOM FeedAgency Recovery Act Plan ARC Loans Project Plan (06/16/2010)CDC Lending Project Plan (06/16/2010)Fee Reduction Project Plan (6/16/2010)Increased Guarantee Project Plan (06/16/2010)Microloans Project Plan (06/16/2010)Recovery Automation Program Project Plan (06/16/2010)SBIC Project Plan (06/16/2010)Secondary Market Guarantee Project Plan (10/06/2009)Secondary Market Lending Project Plan (10/06/2009)Surety Bond Project Plan (06/16/2010) Performance Reports
EquityCapital.pdf (application/pdf Object)
Grand Angels® will make investments that will have a positive effect on our region through business growth, job creation, and the attraction and retention of local talent. Investments with impact will be the result of engaged, experienced business leaders providing both capital and wisdom to entrepreneurs. Growing Businesses Through mentoring, strategic advice, expanding networks and connections to customers, management and venture capital, Grand Angels investments fuel the entrepreneurial economy of innovative companies throughout Michigan. Grand Angels typically invests from $250K to $1M in early-stage companies. Grand Angels has been key to creating a vibrant life sciences cluster in West Michigan through leading initial angel investment rounds in young biotech companies such as Tetra Discovery Partners.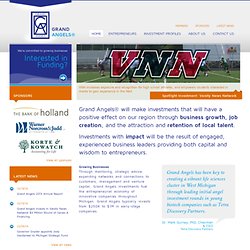 Grand Angels