Music
6 Great Alternatives to iGoogle. UPDATE: iGoogle will be shut down in a few days.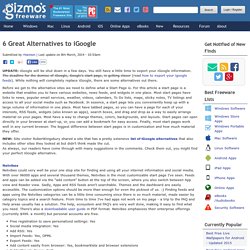 You still have a little time to export your iGoogle information. The deadline for the demise of iGoogle, Google's start page, is getting closer (read how to export your igoogle feeds). While nothing will completely replace iGoogle, there are some alternatives out there. Couch Seats | Watch Amazing Live Music Videos. Free Music with Neverending Playlist. Silk — Interactive generative art. Pink Floyd. Imagine-a-jump-john-lennon-vs.-van-halen by jackstanleywp. The Official Site of Vince Guaraldi Welcome. JAZZRADIO.com - enjoy great jazz music. Listen to Music Curated by Music Experts.
Calm.com. Everyones Mixtape. The Beatles Player - StumbleUpon. A List Of Things Which Are More Jazz Than Bad Jazz Music : A Blog Supreme. Hide captionPickup basketball, for one. iStockPhoto For non-playing participants, jam sessions can be difficult musical experiences.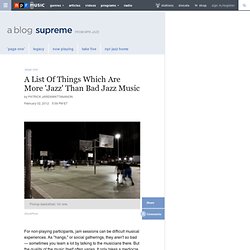 As "hangs," or social gatherings, they aren't so bad — sometimes you learn a lot by talking to the musicians there. But the quality of the music itself often varies. It only takes a mediocre performance to sour the mood, and a poor showing can turn you off altogether, especially if you've paid money to see it. Destroyed. Music Video Awesomeness. - Musictonic - StumbleUpon. What song are you listening to? - StumbleUpon. Jukesy - music player powered by youtube and last.fm - StumbleUpon. Visualize your favourite tunes online - StumbleUpon.
Top 100 Best Acoustic Songs Ever -The Greatest of All Time | Acoustic Guitar Music | TopAcousticSongs.com - StumbleUpon. Here is a list of the best acoustic songs ever written.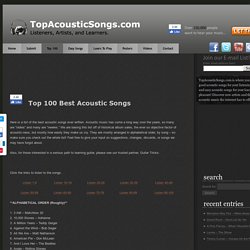 Acoustic music has come a long way over the years, so many are "oldies" and many are "newies." We are basing this list off of historical album sales, the ever so objective factor of acoustic-ness, but mostly how easily they make us cry. They are mostly arranged in alphabetical order, by song – so make sure you check out the whole list! Feel free to give your input on suggestions, changes, discards, or songs we may have forgot about.
Also, for those interested in a serious path to learning guitar, please see our trusted partner, Guitar Tricks: - StumbleUpon. Musicovery - StumbleUpon. StumbleUpon. Looking For New Music? Stop Looking, Start Stumbling! One of the things I hear my friends complain about all the time is how their iPod playlists have become stale and how they desperately need new tunes, but have run out of ideas on where to go to discover new music.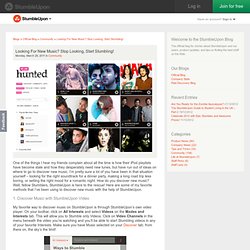 I'm pretty sure a lot of you have been in that situation yourself – looking for the right soundtrack for a dinner party, making a long road trip less boring, or setting the right mood for a romantic night. How do you discover new music? Sound Composition: Anza. 1.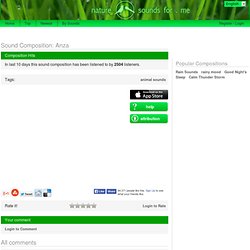 Choose a sound In order for nature sounds to start playing choose a sound from drop-down box for one channel and drag the volume slider up. 2. Add more sounds You can add more nature sounds to composition by choosing other sounds in other channels. Listen to a Wall of rock Music. Stereomood – emotional internet radio - music for my mood and activities. 150 Best Tracks Of The Past 15 Years | #14 Foals - Spanish Sahara | NME.COM. Released: March 2010 Whereas Foals' debut, 'Antidotes', was packed full with strange, vaguely math-ish constructions, like a spiky game of Tetris, the introduction to its follow-up, 'Total Life Forever', gaped like a hole in the heart.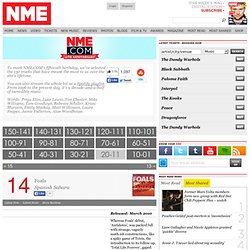 It's sparse, deathly chilling and emotionally naked – Yannis sings rather than barks, and whilst the lyrics are hardly explicit, his order, or invitation – "Forget the horror here" – bears an alluringly universal resonance. (LS) How We Wrote 'Spanish Sahara'Yannis Philippakis. Projecttwo.swf from ucla.edu - StumbleUpon.
uWall.tv | Listen to a Wall of Music - StumbleUpon.
---