Linux distributions
Get flash to fully experience Pearltrees
Other small Linux distros
Create a CrunchBang Linux USB Flash Drive using Windows . The following tutorial covers the process of installing CrunchBang Linux to a USB Flash Drive from Windows. CrunchBang Linux is remix based on Ubuntu, but features a lightweight Openbox window manager with GTK+ applications.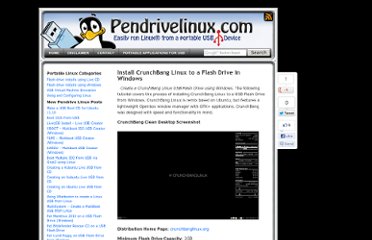 Lately, there has been a lot of noise about Ubuntu's Netbook Remix. In an unrelated (and definitely lucky) interview with The Guardian, Mark Shuttleworth hinted that Canonical were about to announce a version of Ubuntu for a new class of devices created by accident by Asus with the EeePc (talk about corporate luck...). Th buzz about this was monumental. But... what is Ubuntu Netbook Remix? Here is the answer...
you will be asked if you want to download everything, and proceed. A note: Once Ubuntu-dektop in up and running it may be pertinent to remove things like Evolution if you don't plan on using that for your e-mail client. Note about installing via gnome-desktop packages… although it works some have had difficulty with it. It is much easier to install the ubuntu desktop packages rather than figuring out a gnome setup, and the plus of installing via "desktop" is that you get most of the packages that make up a minimal version of that particular buntu distro. Note that Ubuntu Studio's RTkernel doesn't seem to work out of the box, so don't temp trying unless you know what your doing. Known Issues:
New: The T-Shirt for the live system -=> KNOPPER.NET News <=- KNOPPIX at CeBIT 2013 Just in time for CeBIT 2013 (5.-9.3.2013 in Hannover/Germany) , KNOPPIX version 7.1.0 has been released exclusively in the next Linux Magazine .