Hackintosh
Tonymacx86 Blog. People who know me know that I always recommend Apple laptops.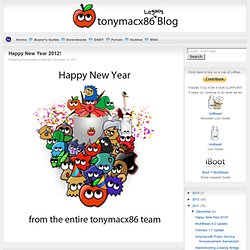 I am convinced that they are the best laptops on the planet and worth every penny. However, a few weeks back, I picked up the HP Probook 4530s to review and monkey around with. This particular model has gathered a lot of steam on the forum, and considering the price ($475) and relative compatibility it seemed like a cool little project. Compared to building a custom desktop computer, hackintoshing a laptop is a dramatic undertaking, and can be a very painful process. [GUIDE] EVGA X58 Snow Leopard Mac OS X 10.6.6 (10J567) Installation - InfiniteMac OSx86. Building your own Mac OS X computer (Hackintosh) requires specific hardware selection to make each part work seamlessly with the Mac OS X operating system for a fluent experience.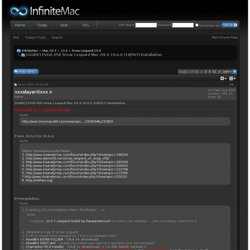 Selecting the right hardware has never been easier than it has become now thanks to ongoing efforts by the joined forces of the OSx86 Community. Your Mac OS X custom build begins here. Nawcom's bitchblog. InsanelyMac. OSx86. Lnx2Mac's Blog. Prasys' Blog. Tonymacx86 Blog.
---