Scotsfox
Guitar tree. History/Myths/Religion. Mind Mapping. For Liberty Re-cut - Ron Paul 2012 Handout DVD HD.
Clouds
DRAWER's design Marmite. Scotland. THE SWORD. Information Design. Browsing the web of data. The art of data visualization. Crowdsourcing. Animation/Cartoons. Declaration of the Occupation of New York City | NYC General Assembly. We encourage the public to participate and collaborate with each other using NYCGA.net and other digital properties established by the New York General Assembly.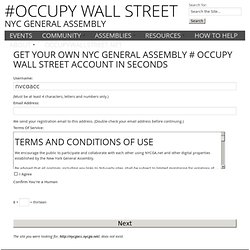 Be advised that all postings, including any links to 3rd-party sites, shall be subject to limited monitoring for violations of this and any other policy. The following types of content are considered inappropriate for posting on NYCGA digital properties: commercial; self-promotional; prurient; abusive; discriminatory speech, including but not limited to, hate speech based on race, gender, sex, national origin, age, sexual orientation, religion or disability; disclosure of a user's personal contact information without permission from the user. Semper Fi: Marines Coming To Protect Protesters On Wall Street. The thousands of indefatigable Wall Street protestors, risking their eyes and recording equipment against Wall Street's personal jack-booted thugs in the NYPD, recently garnered even more support– the US Marines.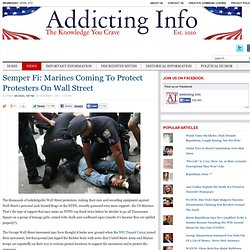 That's the type of support that may make an NYPD cop think twice before he decides to go all Tiananmen Square on a group of teenage girls, armed with chalk and cardboard signs (maybe it's because they are spelled properly?). The Occupy Wall Street movement may have thought it broke new ground when the NYC Transit Union joined their movement, but that ground just tipped the Richter Scale with news that United States Army and Marine troops are reportedly on their way to various protest locations to support the movement and to protect the protesters. Here's the message Ward Reilly relayed from another Marine, on his facebook page: "I'm heading up there tonight in my dress blues.
---