Vldb
IQ Industry Symposium
SQL Server Library
2007 - 33rd Very Large Data Bases Conference - Electronic Procee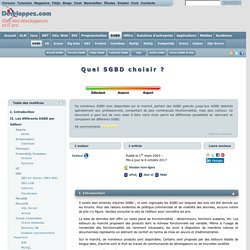 Date de publication : 01.03.2003 , Date de mise à jour : 22.09.2010 Par fadace (Fabien Celaia) De nombreux SGBD sont disponibles sur le marché, partant des SGBD gratuits jusqu'aux SGBD destinés spécialement aux professionnels, comportant de plus nombreuses fonctionnalités, mais plus coûteux.
Quel SGBD choisir ? - Club d'entraide des développeurs fran
ACM SIGKDD: Welcome
ACM SIGMOD Online
VLDB is a premier annual international forum for database researchers, vendors, practitioners, application developers, and users. VLDB 2008, the 34th conference in the series, will be held in Auckland, New Zealand. The conference will feature research talks, tutorials, demonstrations, and workshops.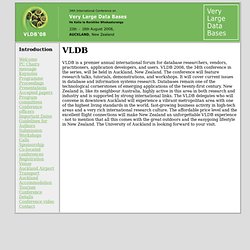 VLDB 08 - VLDB 08
VLDB 2001: Online Papers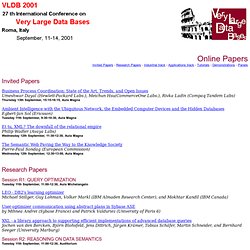 Online Papers Invited Papers - Research Papers - Industrial track - Applications track - Tutorials - Demonstrations - Panels Invited Papers Business Process Coordination: State of the Art, Trends, and Open Issues Umeshwar Dayal (Hewlett-Packard Labs.), Meichun Hsu(CommerceOne Labs.), Rivka Ladin (Compaq Tandem Labs) Thursday 13th September, 15:15-16:15, Aula Magna Ambient Intelligence with the Ubiquitous Network, the Embedded Computer Devices and the Hidden Databases Egbert-Jan Sol (Ericsson) Tuesday 11th September, 9:30-10:30, Aula Magna Et tu, XML?
DAMA/Meta-Data Conference - Exhibits