Tutorial
Matisse. Eclipse Help System. This article (continually in progress) documents my experiences in creating documentation and help for an Eclipse plug-in.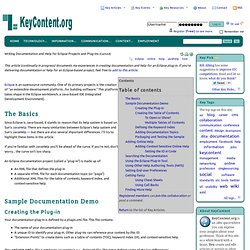 If you're delivering documentation or help for an Eclipse-based project, feel free to add to this article.Eclipse is an opensource community. One of its primary projects is the creation of "an extensible development platform...for building software. " This platform takes shape in the Eclipse workbench, a Java-based IDE (Integrated Development Environment).
Since Eclipse is Java-based, it stands to reason that its help system is based on Sun's JavaHelp. XSLT Tutorial. SQL Tutorial - Learn SQL. Tutoriels et articles de SQLPro - Club d'entraide des dével. Les differentes FAQs SGBD - Club d'entraide des développeur.
---