Tutorial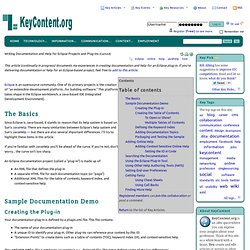 Eclipse Help System
This article (continually in progress) documents my experiences in creating documentation and help for an Eclipse plug-in. If you're delivering documentation or help for an Eclipse-based project, feel free to add to this article.Eclipse is an opensource community. One of its primary projects is the creation of "an extensible development platform...for building software." This platform takes shape in the Eclipse workbench, a Java-based IDE (Integrated Development Environment). Since Eclipse is Java-based, it stands to reason that its help system is based on Sun's JavaHelp.
SQL Tutorial - Learn SQL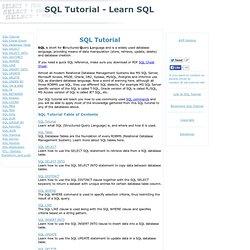 SQL is short for Structured Query Language and is a widely used database language, providing means of data manipulation (store, retrieve, update, delete) and database creation. If you need a quick SQL reference, make sure you download or PDF SQL Cheat Sheet. Almost all modern Relational Database Management Systems like MS SQL Server, Microsoft Access, MSDE, Oracle, DB2, Sybase, MySQL, Postgres and Informix use SQL as standard database language. Now a word of warning here, although all those RDBMS use SQL, they use different SQL dialects. For example MS SQL Server specific version of the SQL is called T-SQL, Oracle version of SQL is called PL/SQL, MS Access version of SQL is called JET SQL, etc.
Les differentes FAQs SGBD - Club d'entraide des développeur