Tree
Représentation intervallaire des
Date de publication : 26/08/2003 , Date de mise à jour : 15/02/2009 Par SQLPro (autres articles) (SQL spot) Peu connue, la représentation intervallaire des arbres est une technique très performante. Traditionnellement les représentations hiérarchiques font appel à des arborescenses modélisées par une table avec une autojointure entre la clef primaire des données mère et une clef secondaire relative aux données de la ligne fille. Cette simplicité a un coût élevé puisque la plupart des requêtes de recherche dans un tel arbre nécessitent un processus récursif, donc de la programmation dans un langage hôte ou dans une procédure stockée. Avec la représentation intervallaire, toutes les recherches deviennent de simples requêtes basique et les performances sont sans communes mesure avec le modèle en autojointure.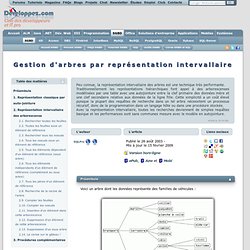 The M-tree Project
FigTree FigTree is designed as a graphical viewer of phylogenetic trees and as a program for producing publication-ready figures. As with most of my programs, it was written for my own needs so may not be as polished and feature-complete as a commercial program. In particular it is designed to display summarized and annotated trees produced by BEAST. Version History
FigTree
HyperTree hyperbolic phylogenetic tree viewer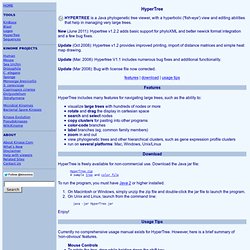 HYPERTREE is a Java phylogenetic tree viewer, with a hyperbolic ('fish-eye') view and editing abilities that help in managing very large trees. New (June 2011): Hypertree v1.2.2 adds basic support for phyloXML and better newick format integration and a few bug fixes. Update (Oct 2008): Hypertree v1.2 provides improved printing, import of distance matrices and simple heat map drawing.
TreeIllustrator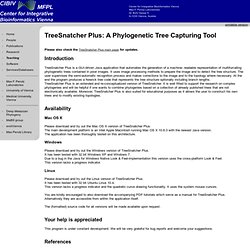 Please also check the TreeSnatcher Plus main page for updates. Introduction TreeSnatcher Plus is a GUI-driven Java application that automates the generation of a machine- readable representation of multifurcating phylogenetic trees contained in pixel images.
TreeSnatcher: Coding Trees from Images
The PAL Project
PAL: Phylogenetic Analysis Library A Java library for molecular evolution and phylogenetics Version 1.5 (January 15, 2004) The PAL project ( http://www.cebl.auckland.ac.nz/pal-project ) is a collaborative effort dedicated to provide a high quality Java library for use in molecular evolution and phylogenetics. This package may be distributed under the terms of the GNU Lesser General Public License Copyright (c) 1999-2004 PAL Development Core Team.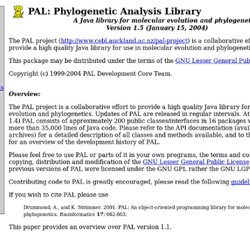 Java Heterogenous distributed computing
Comme promis avant-hier ( lire le début ), j'ai soumis 129 discours de Nicolas Sarkozy à la torture informatique (ses 63 discours de campagne, mais aussi ses discours depuis 2004 présents sur le site de l'UMP, et les discours postérieurs à son élection jusqu'à la fin août). J'ai examiné la parenté lexicale entre les différents textes, dans le but de voir si on retrouvait, par ce procédé tout à fait indépendant, la même classification que par le comptage des anaphores. J'ai déjà parlé de cette technique (voir ici ), et je récapitule brièvement pour les nouveaux lecteurs. On peut facilement calculer une « distance » lexicale entre deux textes, comme une distance entre les différentes villes sur une carte.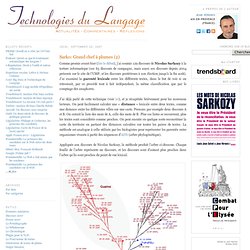 Sarko: Grand chef à plumes (2)