Opensource
Livre Blanc sur la virtualisation | Bearstech
Nous nous excusons pour la gêne occasionnée, mais la page à laquelle vous tentez d'accéder n'est pas à cette adresse. Vous pouvez utiliser les liens ci-dessous pour vous aider à trouver ce que vous cherchez. Si vous êtes certain(e) que l'adresse de la page est correcte mais rencontrez malgré tout une erreur, merci de signaler le problème à l'administrateur du site .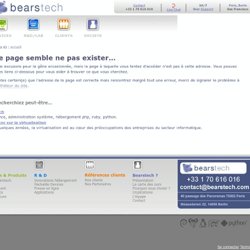 Open Solutions Alliance: HOME
Front Page :: Prevayler
Berkeley DB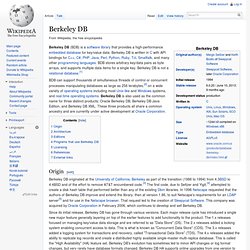 Berkeley DB (BDB) is a software library that provides a high-performance embedded database for key/value data. As of 2012 [update] , Berkeley DB is the most widely used database toolkit in the world, with hundreds of millions of deployed copies. Berkeley DB is written in C with API bindings for C++ , C# , PHP , Java , Perl , Python , Ruby , Tcl , Smalltalk , and most other programming languages .
The SQL Power Architect Community Edition is a cross-platform, open-source data modeling tool with a GUI and an embeddable API. For more information on the Community or Enterprise Edition of SQL Power Architect, please visit http://www.sqlpower.ca/page/architect SQL Power Architect 1.0.6 Released! The SQL Power Architect 1.0.6 has been released!
power-architect - Google Code