MDM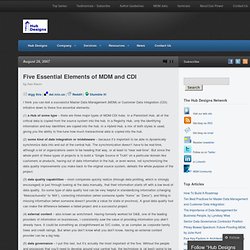 Five Essential Elements of MDM and CDI
digg this | del.icio.us | Reddit | Stumble It! I think you can boil a successful Master Data Management (MDM) or Customer Data Integration (CDI) initiative down to these five essential elements:
Date de publication : 26/08/2003 Par SQLPro (autres articles) (CV) niveau : intermédiaire La technique des méta données est pertinente pour laisser toute liberté aux utilisateurs de rajouter autant de rubriques de données qu'ils le souhaitent sans jamais de crainte quand à leur volume ni leur facilité d'interrogation.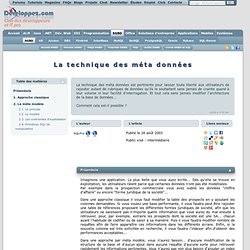 Méta données - Club d'entrai
Master data management—lessons learned over the course of a year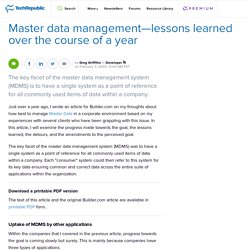 The TechRepublic CIO50 list celebrates the most influential and innovative tech chiefs, voted by their fellow CIOs Just over a year ago, I wrote an article for Builder.com on my thoughts about how best to manage Master Data in a corporate environment based on my experiences with several clients who have been grappling with this issue. In this article, I will examine the progress made towards the goal, the lessons learned, the detours, and the amendments to the perceived goal. The key facet of the master data management system (MDMS) was to have a single system as a point of reference for all commonly used items of data within a company.
Reducing operational costs and increasing business productivity are high priorities for enterprises in the current economic climate. This has raised interest in a number of information management projects ranging from dynamic data warehousing, master data management, application migrations/consolidations, operational BI, and services-oriented architecture environments. For these initiatives to be successful, there is a common, pervasive need for a steady, reliable stream of data from a diverse range of data sources while not impacting existing production systems or adding any business or IT risk. A key factor in the solution is effectively managing enterprise data through the timely capture and delivery of information as it happens. This not only helps reduce both business and IT costs, but also increases visibility into lines of business to help optimize/streamline processes to minimize business risk. This led to the IBM acquisition of DataMirror.
Master Data Management Bidirection Data Integration XML Java Dat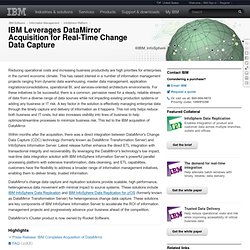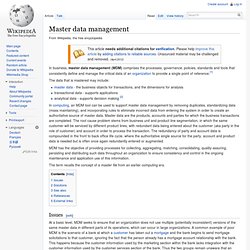 In computing , Master Data Management (MDM) comprises a set of processes, governance, policies, standards and tools that consistently defines and manages the master data (i.e. non-transactional data entities ) of an organization (which may include reference data ). An MDM tool can be used to support Master Data Management by removing duplicates, standardizing data (Mass Maintaining), incorporating rules to eliminate incorrect data from entering the system in order to create an authoritative source of master data. Master data are the products, accounts and parties for which the business transactions are completed.
Master Data Management
Master Data Management - What is it?
Master Data Management - Teradata
Blog: Colin White: Master Data Integration or Master Data Manage