BusinessIntelligence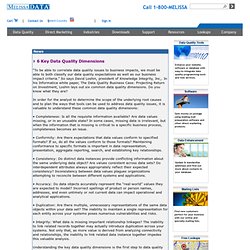 "To be able to correlate data quality issues to business impacts, we must be able to both classify our data quality expectations as well as our business impact criteria." So says David Loshin, president of Knowledge Integrity, Inc,. In his Informatica white paper, The Data Quality Business Case: Projecting Return on Investment, Loshin lays out six common data quality dimensions. Do you know what they are?
6 Key Data Quality Dimensions
Le Lab Décisionnel - Accueil
En 2007, nous avons lancé l e Label Décisionnel première génération avec l'ambition de créer une communauté active d'utilisateurs, d'intégrateurs et d'éditeurs partageant une même vision : Rendre le décisionnel toujours plus accessible et toujours plus générateur de valeur. Nous avions pour objectif de faire du Label Décisionnel un espace d'échange et de discussion libre , débarrasser des artifices marketing et des discours éditeurs souvent caricaturaux. 5 ans après, il est grand temps de faire un premier bilan.