CMS
WordPress is web software you can use to create a beautiful website or blog. We like to say that WordPress is both free and priceless at the same time. The core software is built by hundreds of community volunteers, and when you're ready for more there are thousands of plugins and themes available to transform your site into almost anything you can imagine. Over 60 million people have chosen WordPress to power the place on the web they call "home" — we'd love you to join the family.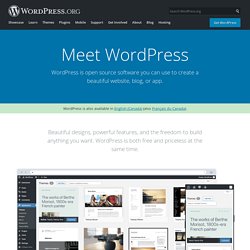 Radiant CMS
Radiant is a no-fluff, open source content management system designed for small teams. Radiant features: An elegant user interface Flexible templating with layouts, snippets, page parts, and a custom tagging language A first-class extension/plugin system Simple user management and permissions More Features… Current Version: 1.1.3 This version includes a powerful extension system so developers can tailor Radiant to their specific needs. Head on over to the download page and get started.
January 15, 2014 Movable Type 6.0.2 Release Notes New & Improved Functions Server Sync (Movable Type Advanced) The server sync function is now available for Movable Type Advanced users.
MovableType.org - Home of the MT Community
infojunkie committed Add date to ebook formatter + fix MIME... sammarks15 committed Fix old references from entity_menu_links Ben Howes committed Merge pull request #2 from ZoetropeImaging/7... Ben Howes committed added example of templating Ben Howes committed updated README with display formatter info Ben Howes committed added field formatter to combine with a list...