Football Metrics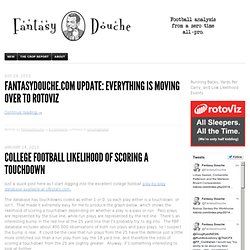 One of the challenges with any kind of a quantitative system in football is that the interactions between players are extremely difficult to get a handle on. In the simplest terms, when Matthew Stafford throws the ball to Calvin Johnson, how much credit should Stafford get for the play and how much credit should Johnson get? That's as easy as it gets. Now what do you do when Stafford throws to Tony Sheffler who is open because the defense is primarily concerned with stopping Calvin Johnson? Who gets the credit for the play then?
Fantasy Douche
Cold, Hard Football Facts.com: The Truth Hurts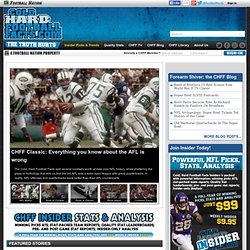 Colonel Comey's Title Game Megaprimerstravaganza Trending now: Colin Kaepernick's career, old guys on the sidelines, special teams stars, Bill Belichick's personnel department, Seattle's pass rush and the least important stat of the year. Colonel's Recipe Greatest Winners Ball Control Broncos Gold Rush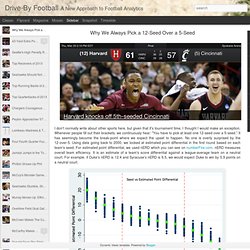 Drive-By Football
If you missed the top quarterbacks or running backs of 2013, make sure to check them out. Despite missing two games at the beginning of the season due to suspension, Josh Gordon finished 2013 as the No. 1 receiver. While Calvin Johnson added +143.56 through the air, Gordon added another +5.06 on the ground on five carries, adding +143.71 in total NEP. Megatron posted a dominant 95.24% success rate on catches this year - only four catches were deemed as unsuccessful plays.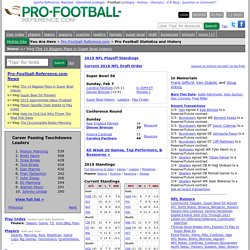 Career Passes Completed Leaders Career Passing Yards Leaders Career Rushing Yards Leaders
Phil Steele
The Rookie Scouting Portfolio
Coach Rankings « Coaches | By The Numbers.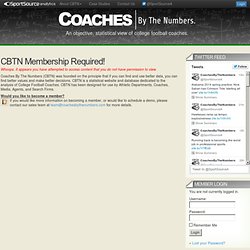 Whoops. It appears you have attempted to access content that you do not have permission to view. Coaches By The Numbers (CBTN) was founded on the principle that if you can find and use better data, you can find better values and make better decisions.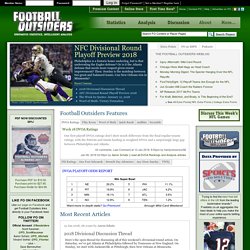 14 Jan 2014, 02:14pm by Cian Fahey Film Room: Percy Harvin Percy Harvin: injury-prone contract bust, schematic weapon of doom, or both?
Football Study Hall - For Advanced College Football Statistics
Forgot password? We'll email you a reset link. If you signed up using a 3rd party account like Facebook or Twitter, please login with it instead. Join Football Study Hall