Historisches und korsett
A Chemise a la Reine. Isabella Corsetry Custom and Ready to Wear Corsets. Makers of exquistly handcrafted custom and ready to wear corsets available in 18 unique corset styles with over 200 fabrics to choose from, we have elegant silk corsets to novelty cotton prints.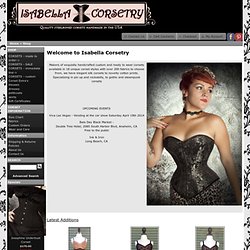 Specializing in pin up and rockabilly, to gothic and steampunk corsets Viva Las Vegas - Vending at the car show Saturday April 19th 2014. Schnitte für historische Kleidung - Kostümkram. Nehelenia Patterns - Historische Schnittmuster. Welcome to the Vena Cava Design Corset and Costume Component Site - Vena Cava Design. Atelier Sylphe Corsets by AtelierSylphecorsets. Farthingales Corset Making Supplies.
---