Sites anglophones
The National Archives Records Management Information Page. Skip Navigation.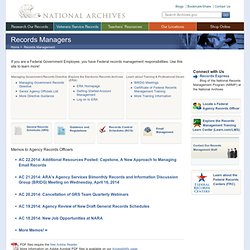 Records Managers Home > Records Management If you are a Federal Government Employee, you have Federal records management responsibilities. Use this site to learn more! Managing Government Records Directive (M-12-18) Records management - National Archives of Australia. Records are an essential tool of good business and for efficient administration.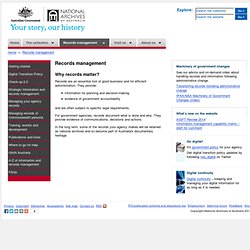 They provide: information for planning and decision-makingevidence of government accountability and are often subject to specific legal requirements. Records Management at Archives Ireland: Free impartial advice. Records Management is the planning, controlling, directing, organising, training, promoting, and other managerial activities involved with respect to records creation, records maintenance and use, and records disposition in order to achieve adequate and proper documentation of the policies and transactions of the creating agency.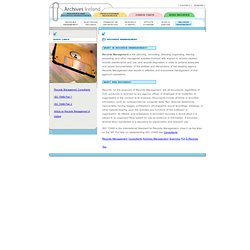 Records Management also results in effective and economical management of that agency's operations. Records, for the purposes of Records Management, are all documents, regardless of form, produced or received by any agency, officer, or employee of an institution or organisation in the conduct of its business. Documents include all forms of recorded information, such as: correspondence, computer data, files, financial statements, manuscripts, moving images, publications, photographs, sound recordings, drawings, or other material bearing upon the activities and functions of the institution or organisation, its officers, and employees.
The National Archives of England. Records Management Overview. International Records Management Trust Reasearch Reports.
---