Schumi16
Tackle Any Issue With a List of 100. The List of 100 is a powerful technique you can use to generate ideas, clarify your thoughts, uncover hidden problems or get solutions to any specific questions you're interested in.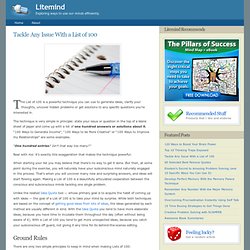 The technique is very simple in principle: state your issue or question in the top of a blank sheet of paper and come up with a list of one hundred answers or solutions about it. "100 Ways to Generate Income", "100 Ways to be More Creative" or "100 Ways to Improve my Relationships" are some examples. "One hundred entries? Isn't that way too many?" Bear with me: it's exactly this exaggeration that makes the technique powerful. When starting your list you may believe that there's no way to get it done.
---
schumi16 Dec 7 2011

Hello. I want to know why sometimes i can connect 2 pearltrees (different than root) and sometimes i can connect multiple pearltrees to a pearltree (i'm not saying here about the root).
---