Ukulele
When I'm Sixty-Four. Kanal von BeatlesUkuleleMike.
Build Me Up, Buttercup on ukulele. 10 Meter geh auf ukulele vom Mampfi. Blues ukulele. Ukulele-Kind Keita. Crazy G Variationen. Stand By Me - Ukulele & Bass Cover Version. Www.ukulele.net. 1.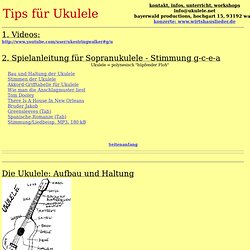 Videos: 2. Spielanleitung für Sopranukulele - Stimmung g-c-e-a Ukulele = polynesisch "hüpfender Floh" 1.Deutscher Ukulelenclub | Willkommen. Top 50 Ukulele Sites. How to play Somewhere over the Rainbow on the ukulele. The ukulele is a beautiful and unique stringed instrument that is perfect for the traveling musician because it is so portable and relatively inexpensive.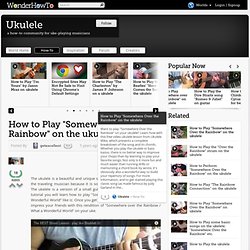 The ukelele is a version of a small guitar that originated in Hawaii. In this tutorial you will learn how to play "Somewhere over the Rainbow / What a Wonderful World" like Iz. Ukulélé.
---