Windows
Microsoft Windows is compatible with a wide variety of assistive technology products such as screen readers, magnifiers, and specialty hardware that meet the needs of computer users with all types of impairments and provide choices at every price point. We strive to ensure that Windows is an outstanding platform for other companies to develop innovative accessible technology products.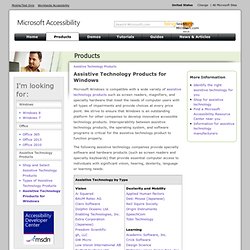 Assistive Technology Products for Windows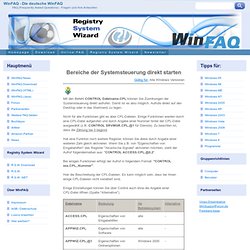 Bereiche der Systemsteuerung direkt starten
Gültig für: Alle Windows Versionen Mit den Befehl CONTROL Dateiname.CPL können Sie Zuordnungen der Systemsteuerung direkt aufrufen.
Kategorie: Windows
Kategorie: Windows-Betriebssystem
Liebe Wikipedia-Leser: Unsere kleine Non-Profit-Organisation betreibt die fünftgrößte Website der Welt. Wir haben zwar nur 150 Mitarbeiter, aber 450 Millionen Nutzer – und Kosten wie jede andere große Website, für Server, Strom, Miete, Programme und Personal. Die Wikipedia ist etwas Besonderes – wie eine Bibliothek oder ein öffentlicher Park, ein Tempel für den Geist, ein Ort für alle zum Denken und zum Lernen.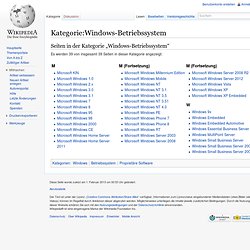 Kategorie:Windows-Betriebssystemkomponente
Microsoft Windows-Fehlerberichterstattung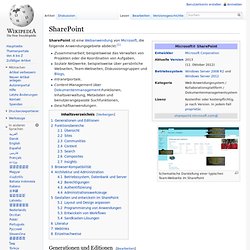 Schematische Darstellung einer typischen Team-Webseite im SharePoint
SharePoint
SharePoint 2010 - Germany Homepage
Bei der Verwendung von SharePoint 2010 helfen Ihnen viele neue Funktionen und die verstärkte Integration in die neuen Office 2010 Anwendungen. Es wird sowohl für Anwender als auch für Administratoren und IT-Profis leichter umgehend auf neue Unternehmensanforderungen zu reagieren.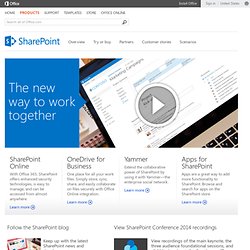 Startseite | SharePoint Developer Center | SDK, Schulungen, Code| MSDN