Windows
Microsoft Windows is compatible with a wide variety of assistive technology products such as screen readers, magnifiers, and specialty hardware that meet the needs of computer users with all types of impairments and provide choices at every price point. We strive to ensure that Windows is an outstanding platform for other companies to develop innovative accessible technology products. Interoperability between assistive technology products, the operating system, and software programs is critical for the assistive technology product to function properly. The following assistive technology companies provide specialty software and hardware products (such as screen readers and specialty keyboards) that provide essential computer access to individuals with significant vision, hearing, dexterity, language or learning needs.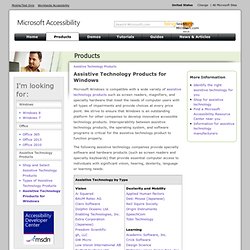 Assistive Technology Products for Windows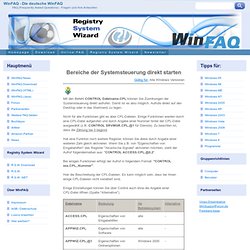 Bereiche der Systemsteuerung direkt starten
Gültig für: Alle Windows Versionen Mit den Befehl CONTROL Dateiname.CPL können Sie Zuordnungen der Systemsteuerung direkt aufrufen. Damit ist es also möglich, Aufrufe direkt auf den Desktop oder in das Startmenü zu legen. Nicht für alle Funktionen gibt es aber CPL-Dateien. Einige Funktionen werden durch eine CPL-Datei aufgerufen und durch Angabe einer Nummer hinter der CPL-Datei ausgewählt (z.B. CONTROL SRVMGR.CPL,@1 für Dienste).
Kategorie: Windows
Kategorie: Windows-Betriebssystem
Kategorie:Windows-Betriebssystemkomponente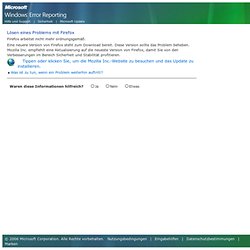 Microsoft Windows-Fehlerberichterstattung
arbeitet nicht mehr ordnungsgemäß. Eine neuere Version von steht zum Download bereit. Diese Version sollte das Problem beheben. Mozilla Inc. empfiehlt eine Aktualisierung auf die neueste Version von , damit Sie von den Verbesserungen im Bereich Sicherheit und Stabilität profitieren. Der Support für dieses Produkt ist communitybasiert. Lösungen für geläufige Probleme erhalten Sie über ein Onlinebenutzerforum.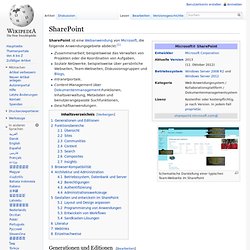 Schematische Darstellung einer typischen Team-Webseite im SharePoint SharePoint ist eine Webanwendung von Microsoft, die folgende Anwendungsgebiete abdeckt:[1] Zusammenarbeit, beispielsweise das Verwalten von Projekten oder die Koordination von Aufgaben,Soziale Netzwerke, beispielsweise über persönliche Webseiten, Team-Webseiten, Diskussionsgruppen und Blogs,Intranetportale,Content-Management über Dokumentenmanagement-Funktionen, Inhaltsverwaltung, Metadaten und benutzerangepasste Suchfunktionen,Geschäftsanwendungen. Generationen und Editionen[Bearbeiten] SharePoint 2013 gibt es in drei Editionen:[3]
SharePoint
SharePoint 2010 - Germany Homepage
SharePoint Online With Office 365, SharePoint offers enhanced security technologies, is easy to manage, and can be accessed from almost anywhere. OneDrive for Business One place for all your work files. Simply store, sync, share, and easily collaborate on files securely with Office Online integration. Yammer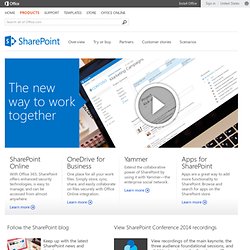 Startseite | SharePoint Developer Center | SDK, Schulungen, Code| MSDN
SharePoint Server 2013 testen Schulung Dokumente Downloads