Windows
Microsoft Windows is compatible with a wide variety of assistive technology products such as screen readers, magnifiers, and specialty hardware that meet the needs of computer users with all types of impairments and provide choices at every price point. We strive to ensure that Windows is an outstanding platform for other companies to develop innovative accessible technology products.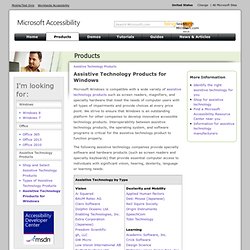 Assistive Technology Products for Windows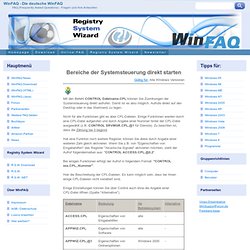 Bereiche der Systemsteuerung direkt starten
Gültig für: Alle Windows Versionen Mit den Befehl CONTROL Dateiname.CPL können Sie Zuordnungen der Systemsteuerung direkt aufrufen.
Kategorie: Windows
Kategorie: Windows-Betriebssystem
Liebe Wikipedia-Leser: Wir sind die kleine gemeinnützige Organisation, die die fünftgrößte Website der Welt betreibt. Wir haben nur 175 Mitarbeiter, bedienen aber 500 Millionen Nutzer und haben Kosten wie jedes andere Top-Site: Server, Strom, Miete, Programme und Angestellte. Wikipedia ist etwas Besonderes.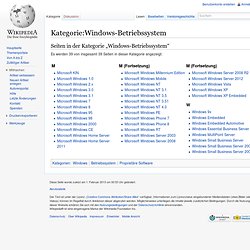 Kategorie:Windows-Betriebssystemkomponente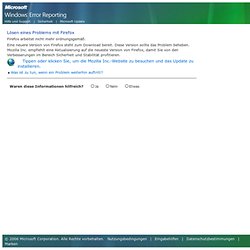 Microsoft Windows-Fehlerberichterstattung
arbeitet nicht mehr ordnungsgemäß. Eine neuere Version von steht zum Download bereit. Diese Version sollte das Problem beheben. Mozilla Inc. empfiehlt eine Aktualisierung auf die neueste Version von , damit Sie von den Verbesserungen im Bereich Sicherheit und Stabilität profitieren. Der Support für dieses Produkt ist communitybasiert. Lösungen für geläufige Probleme erhalten Sie über ein Onlinebenutzerforum.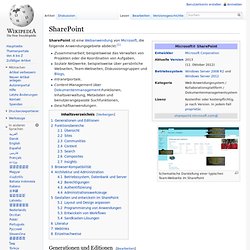 Schematische Darstellung einer typischen Team-Webseite im SharePoint
SharePoint
SharePoint 2010 - Germany Homepage
Startseite | SharePoint Developer Center | SDK, Schulungen, Code| MSDN