Wetter
Forecastfox Weather
Forecastfox Weather
Forecastfox Weather is a free extension for Mozilla Firefox and Google Chrome that adds weather icons to your browser's toolbar, letting you easily track the weather anywhere in the world. Mousing over the weather icons reveals detailed weather information for each forecasted day in an easily readable format. Forecastfox Weather aims to be unobtrusive and easy to use. US and International Weather Get current conditions, forecasts, radar/satellite and millions of locations in the US and around the world. Severe Weather Alerts
AniWeather
AniWeather - Animated Weather + Any Weather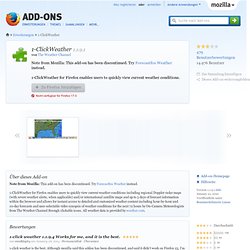 1-ClickWeather for Firefox enables users to quickly view current weather conditions including regional Doppler radar maps (with severe weather alerts, when applicable) and/or international satellite maps and up to 5 days of forecast information within the browser and allows for instant access to detailed and customized weather content including hour-by-hour and 10-day forecasts and user-selectable video synopsis of weather conditions for the next 72 hours by On-Camera Meteorologists from The Weather Channel through clickable icons. All weather data is provided by weather.com.
1-ClickWeather
Niederschlagsradar
Das Niederschlagsradar, ursprünglich: 'Radio Detection and Ranging', wird auch zum Messen von Niederschlag benutzt. Das Niederschlagsradar ist wegen der Erdkrümmung horizontal begrenzt auf ungefähr 300 km Reichweite. Prinzipiell kann der Radar zwar einen weiteren Bereich abdecken, aber dann geht er über die Bewölkung hinaus. Niederschlag einer Wolke, die bis in große Höhen in die Troposphäre kommt, im Fachjargon Cumulonimbus genannt und weiter als 200 km entfernt ist, kann jedoch wahrgenommen werden.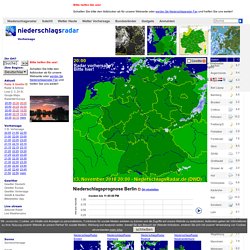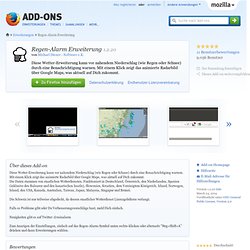 Regen-Alarm Erweiterung
Diese Wetter-Erweiterung kann vor nahendem Niederschlag (wie Regen oder Schnee) durch eine Benachrichtigung warnen. Mit einem Klick zeigt das animierte Radarbild über Google Maps, was aktuell auf Dich zukommt. Die Daten stammen von staatlichen Wetterdiensten. Funktioniert in Deutschland, Österreich, den Niederlanden, Spanien (inklusive den Balearen und den kanarischen Inseln), Slowenien, Kroatien, dem Vereinigtem Königreich, Irland, Norwegen, Island, den USA, Kanada, Australien, Taiwan, Japan, Malaysia, Singapur und Brunei. Die Schweiz ist nur teilweise abgedeckt, da dessen staatlicher Wetterdienst Lizenzgebühren verlangt.
Regen-Alarm für das Web
www.regen-alarm.de Diese Wetter-App und ihre Erweiterungen können vor nahendem Niederschlag (wie Regen oder Schnee) durch einen stillen Alarm warnen. Das animierte Radarbild zeigt, was aktuell auf Dich zukommt. Die Daten stammen von staatlichen Wetterdiensten. Funktioniert in Deutschland, Österreich, den Niederlanden, Spanien (inklusive den Balearen und den kanarischen Inseln), Slowenien, Kroatien, Weißrussland, Ukraine, Russland, dem Vereinigtem Königreich, Irland, Finnland, Norwegen, Island, den USA, Kanada, Mexiko, El Salvador, Argentinien, Australien, Taiwan, Japan, Republik Korea, Malaysia, Singapur, Brunei. Auch erhältlich als:
Weather Watcher Live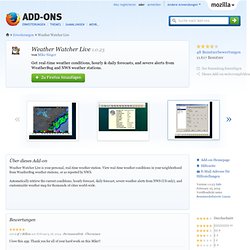 Bewertet mit 5 von 5 Sternen von trandom am January 10, 2014 · Permanentlink · Übersetzen Very nice ... I've always liked the Weather Watcher desktop version and this browser freebie is very nicely done. The only problem I'm having with it is that the tooltip map doesn't seem to be updating very well - for instance it's 23.27 here and the tootip is showing the map from 16.00
Get accurate weather conditions & forecasts | Weather Watcher Live
WeatherBug
Weather Firefox Extension from WeatherBug.com