Web Broadcasting Stream
Free Movie Online Streams. Film Online Shops. Video on Demand & Onlinevideothek. Videothek. Serien & TV-Shows Online. Online TV Mediatheken.
TV Livestreams. TV Stream Web Apps. Webcam. Web Broadcasting Live Produktion. Fun Video Websites. Streaming-Portals. P2PTV | Peer-to-Peer-TV.
Internetfernsehen. Diese Kategorie beinhaltet Fernsehsendungen (Audio-visuelle Beiträge), die ausschließlich oder vorwiegend über das Internet verbreitet werden.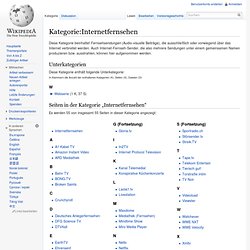 Auch Internet-Fernseh-Sender, die also mehrere Sendungen unter einem gemeinsamen Namen produzieren bzw. ausstrahlen, können hier aufgenommen werden. Unterkategorien Diese Kategorie enthält folgende Unterkategorie:In Klammern die Anzahl der enthaltenen Kategorien (K), Seiten (S), Dateien (D) Seiten in der Kategorie "Internetfernsehen" Justin.tv - Streaming live video broadcasts for everyone. Seeon.tv. SeeOn.tv HD Video Network. 100 legal sites to stream and download free music | MerryCode.
Music is life, I never found anyone who's life isn't influenced by Music.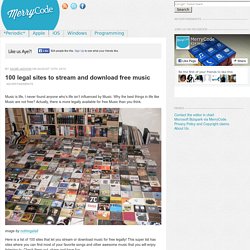 Why the best things in life like Music are not free? Actually, there is more legally available for free Music than you think. image by nothingatall Here is a list of 100 sites that let you stream or download music for free legally! TWiT.tv | Netcast Network Podcasts. FAQ - The Official TWiT Wiki. From The Official TWiT Wiki TWiT.tv What does "TWiT" mean?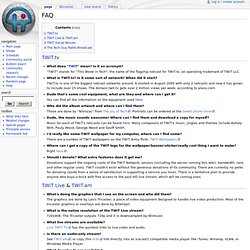 Is it an acronym? "TWiT" stands for "This Week in Tech", the name of the flagship netcast for TWiT.tv, an operating trademark of TWiT LLC. TWiT.tv. The TWiT Netcast Network, which is the operating trade name of TWiT LLC, is a podcast (although TWiT uses the term netcast) network founded by technology broadcaster and author Leo Laporte and run by CEO Lisa Kentzell and News Director Mike Elgan.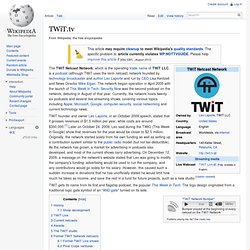 The network began operation in April 2005 with the launch of This Week in Tech. Security Now was the second podcast on the network, debuting in August of that year.
---