Web 2.0 Apps (+Cloud)
Web cloud storage & online backup
Schreibtrainer / Tipptrainer
Mockups & Wireframing Apps
Web Private Management Apps
Online Action Management Apps
Web App Authentifizierungsdienst
Web App Adressbuch / Adresses
Timeline / Zeitleiste Web Apps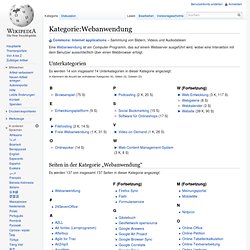 Eine Webanwendung ist ein Computer-Programm, das auf einem Webserver ausgeführt wird, wobei eine Interaktion mit dem Benutzer ausschließlich über einen Webbrowser erfolgt. Unterkategorien Es werden 15 von insgesamt 15 Unterkategorien in dieser Kategorie angezeigt:In Klammern die Anzahl der enthaltenen Kategorien (K), Seiten (S), Dateien (D)
Kategorie: Webanwendung
Webanwendung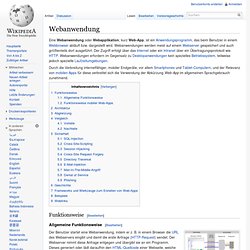 Eine Webanwendung oder Webapplikation, kurz Web-App, ist ein Anwendungsprogramm, das beim Benutzer in einem Webbrowser abläuft bzw. dargestellt wird. Webanwendungen werden meist auf einem Webserver gespeichert und auch größtenteils dort ausgeführt. Der Zugriff erfolgt über das Internet oder ein Intranet über ein Übertragungsprotokoll wie HTTP. Webanwendungen erfordern im Gegensatz zu Desktopanwendungen kein spezielles Betriebssystem, teilweise jedoch spezielle Laufzeitumgebungen. Durch die Verbreitung internetfähiger, mobiler Endgeräte, vor allem Smartphones und Tablet-Computern, und der Relevanz von mobilen Apps für diese verbreitet sich die Verwendung der Abkürzung Web-App im allgemeinen Sprachgebrauch zunehmend. Funktionsweise[Bearbeiten]
Category:Web applications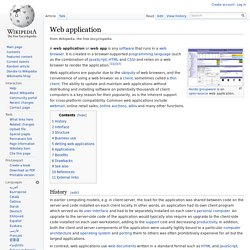 In computing, a web-based application is any application that uses a web browser as a client.[1][2] The term may also mean a computer software application that is coded in a browser-supported programming language (such as JavaScript, combined with a browser-rendered markup language like HTML) and reliant on a common web browser to render the application executable. History[edit] In earlier computing models, e.g. in client-server, the load for the application was shared between code on the server and code installed on each client locally. In other words, an application had its own client program which served as its user interface and had to be separately installed on each user's personal computer. An upgrade to the server-side code of the application would typically also require an upgrade to the client-side code installed on each user workstation, adding to the support cost and decreasing productivity.
Web app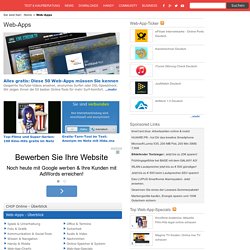 Web-Apps
CHIP Online - Überblick Web-Apps - Überblick Web-Apps
Web-Apps-Charts: Top 100 der Woche
Web-Apps-Charts: Top 100 der Woche
Web-Apps-Charts: Top 100 des Monats
Web-Apps-Charts: Top 100 aller Zeiten nach Downloads
Web-Apps-Charts: Top 100 aller Zeiten nach Leserwertung
Freeware gegen Webware im Duell
Surf-Tipps: Die 50 besten Web-Apps
Dateien kostenlos konvertieren Die kostenlose Web-App Online-ConVert hilft Ihnen bei der Umwandlung Dateien jeglicher Art. Egal, ob Sie ein Video für Ihre PSP optimieren wollen, Bilder auf das iPhone laden oder ein eBook umwandeln möchten - die Web-App kommt damit klar. Zuerst wählen Sie aus den sechs angebotenen Kategorien: "Audio", "Dokumente", "eBooks", "Bilder", "Video" und "Passwörter". Nun das Zielformat wählen, die Datei hochladen und schon spukt der "Online Converter" die neue Datei aus. Davor lassen sich je nach Dateiart noch einige Änderungen vornehmen und diverse Einstellungen treffen. So können Sie beispielsweise bei Bildern die Auflösung, die Größe und die Farbe verändern.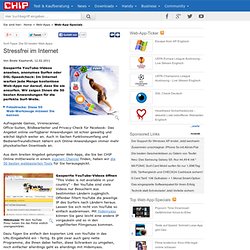 Freigeben von Dokumenten im Internet | Microsoft Office Live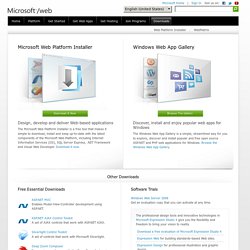 Download Microsoft Web Platform, Windows Web Apps
Free Essential Downloads ASP.NET MVC Enables Model-View-Controller development using ASP.NET. ASP.NET AJAX Control Toolkit A set of AJAX controls that work with ASP.NET AJAX. Silverlight Control Toolkit A set of controls that work with Microsoft Silverlight. Deep Zoom Composer Prepare images for use with the Deep Zoom feature in Silverlight.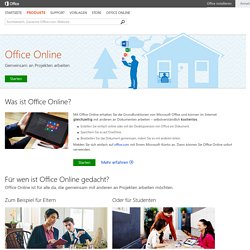 Office Web Apps
Mit den browserbasierten Versionen von Word, PowerPoint, Excel und OneNote können Sie gemeinsam mit Ihren Kollegen und Freunden auf Office-Dokumente zugreifen und diese freigeben. Von überall aus zugreifen und freigeben für jedermann Office-Dokumente auf beliebigen Geräten anzeigen und bearbeiten – ganz gleich, wo Sie sich gerade befinden Mit anderen an Dokumenten zusammenarbeiten, Präsentationen vorbereiten, Tabellen erstellen und Notizen erfassen – ganz gleich, welche Plattform, welches Gerät oder welche Office-Version gerade verwendet wird Dokumente im Internet speichern, sodass sie für jedermann freigegeben werden können, der über einen unterstützten Webbrowser verfügt – sogar, wenn Office nicht installiert ist
Wenn Sie auf eine Datei klicken, die auf einer Microsoft SharePoint Server 2010-Website oder auf einer Microsoft SharePoint Foundation 2010-Website gespeichert ist, erhalten Sie die folgende Meldung: Dokument öffnenSie öffnen gerade: Name: <> Von: <>Wie möchten Sie die Datei öffnen? Oder Sie erhalten die folgende Meldung, wenn Sie auf eine Datei doppelklicken, die in Windows Live SkyDrive gespeichert ist und die Sie in Office Web Apps anzeigen möchten: DateidownloadMöchten Sie diese Datei öffnen oder speichern? Name: <> Typ: <> Von: livefilestore.com Dieses Problem tritt auf, weil der in Office Web Apps angeforderte Vorgang das Dateiformat der Datei nicht unterstützt.
Anzeigen oder Bearbeiten in Office Web Apps nicht möglich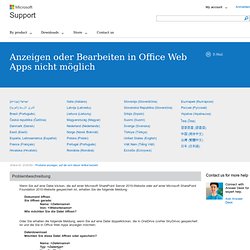 Web Apps - Web application downloads and software reviews
Web Apps - Web application downloads and software reviews
Project-Management.com offers a business-oriented Software-as-a-Service (SaaS) Marketplace.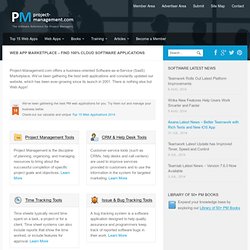 Web application development is the process and practice of developing web applications. Risk[edit] Just as with a traditional desktop application, web applications have varying levels of risk.
Web application development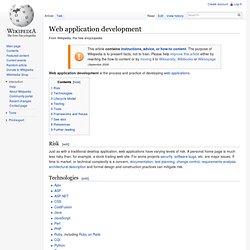 Category:Web development
Suggy
Suggy
Calculator Mortgage, Mortgage Calculator, Loan Calculator, Tax Calculator
KnowledgeSutra - Free Web Hosting & Open Discussion Forums
Flexamail - We make mail do more!
Briefform.de - kostenlose Musterbriefe, Vorlagen und Beispiele. Briefe online schreiben
sysProfile: Dein SystemProfil online !
SysProfile Forum - Powered by SysProfile
Online Taschenrechner Calculator
Web Development Online Tools
Create Website Online Web Apps
Online Optimizer / ~ opimierer
Internet Speed Test Geschwindigkeitsmessung
WWW Frage <-> Antwort / Q&A
Security Software & Tools