Style, Design & Lifestyle
Design Inspiration. Design and all about it! Dude Craft. Dribbble - Popular. HYPEBEAST. Online Magazine for Fashion, Arts, Design and Culture. Inhabitat | Design For a Better World! Neatorama. Designfragen.de. Design Portal für Designer - Studium, Ausbildung und Beruf | Designer, Fotografen und Gestaltung. Visual News - The Cure For Eyeball Boredom. Designboom. Design Inspiration Gallery - FAVEUP. Modern & Contemporary Design Platform for designer, architects & creative.
Designer High | High by Design. The BIGGEST ever list of design resources! - ProofHQ. Following the huge success of last year's "World's Biggest Ever List of Graphic Design Blogs", we've decided that we should turn it into an annual event – after all, more people than ever before are blogging and the talent pool continues to grow.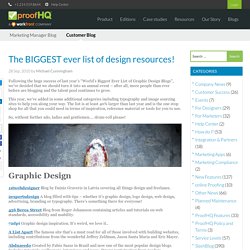 This year, we've added in some additional categories including typography and image sourcing sites to help you along your way. The list is at least 40% larger than last year and is the one stop shop for all that you could need in terms of inspiration, reference material or tools for you to use. Fab.com | daily design for everyone. Highsnobiety. Fri, 06/01/2012. Fri, 06/01/2012. 50 Beautiful and Effective Package Designs. When choosing one product over another, the design of the packaging probably influences your decision far more than you realize.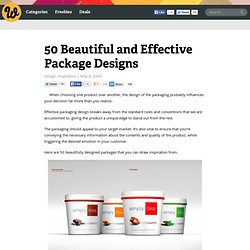 Effective packaging design breaks away from the standard rules and conventions that we are accustomed to, giving the product a unique edge to stand out from the rest. The packaging should appeal to your target market. It's also vital to ensure that you're conveying the necessary information about the contents and quality of the product, while triggering the desired emotion in your customer. Here are 50 beautifully designed packages that you can draw inspiration from. Fri, 06/01/2012. Gear Patrol | Spirit of Adventure, Passion for Gear.
Product design. Fubiz™ Yanko Design - Modern Industrial Design News. NOTCOT.ORG. MoCo Loco - Modern contemporary design & architecture. Online Portfolios on the Behance Network. Cool Hunting. TREND HUNTER - #1 in Trends - Fashion Trends, Tech, Style, Design, Pop Culture and Marketing. FFFFOUND! Design You Trust – Design Blog and Community. BOOOOOOOM! - CREATE * INSPIRE * COMMUNITY * ART * DESIGN * MUSIC * FILM * PHOTO * PROJECTS. TrendsNow - Future Trends Magazine.
Abduzeedo | Graphic Design Inspiration and Photoshop Tutorials. Welcome. Ill Studio - Home. Core77 / industrial design magazine + resource / home. The Trendy Girl - Girly Trends Magazine. Blog Esprit-Design : Tendance Design / Deco. Design Mom — The Intersection of Design & Motherhood. DECO-DESIGN | Blog / Magazine Décoration, Design & Architecture.
Since 1999 home of design culture, leading independent publication for design, architecture, art, photography and graphics. Josh Spear, Trendspotting. Secret Stash Drawer by Yi-Ting Cheng. Modern & Contemporary Design Platform / Daily Blog / DESIGNSPOTTER.COM. Design Cot : In Design, Web design, Graphic Design, Home design, Fashion design, Auto design, Green design inspirations around the web. DESIGN. Cool Motorcycle Based On Famous Logo | Tips For Designers | Design Inspiration | Design Help. Everybody known Jaguar as a luxury and famous logo all of the time.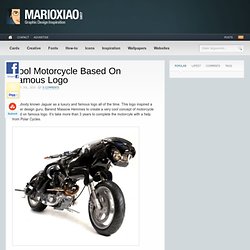 This logo inspired a master design guru, Barend Massow Hemmes to create a very cool concept of motorcycle based on famous logo. It's take more than 3 years to complete the motorcyle with a help from Polar Cycles. The Jaguar Motorcycle had its debut in 2008 at the Bulldog Biker Bash in Swindon UK and has since received much attention worldwide. The collection of Barend Massow starting from Audi, Ferrari, Bentley Rolls Royce, Coke Cola and many more. Things of Random Coolness. Priority Designs :: Industrial Design Consultants, Industrial Designers, Product Development.
PicoCool / Popular items. Form follows function. Der Begriff form follows function (auch Form folgt Funktion oder FFF, wörtl.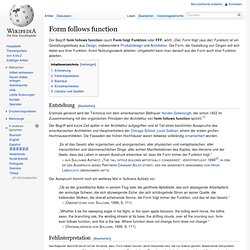 (Die) Form folgt (aus der) Funktion) ist ein Gestaltungsleitsatz aus Design, insbesondere Produktdesign und Architektur. Die Form, die Gestaltung von Dingen soll sich dabei aus ihrer Funktion, ihrem Nutzungszweck ableiten. Umgekehrt kann man danach aus der Form auch eine Funktion ableiten. DesignStudios.
Design Tools. Website Designs. Fun Design & Kunst Pictures. Lifestyle & Netzkultur. Webdesign Resources & Templates. Bikedesign.
---