Stockfotos / Free Stock
Stock Photos

-> RF = Royalty Free
-> RM = Royalty Managed
Free Stock Photos & Images | StockFreeImages.com. Sipa Press: A Window on the World. Press Agency, Agence Presse. Corbis Images – Premium Quality Stock Photography and Illustrations. Banque d'images, photos de presse, film et musique | Getty Images France. Everystockphoto - searching free photos. Stock Photography: Download Free Stock Photos & Royalty Free Images.
Hochauflösende Stockfotografie: Kostenlose Stockfotos und lizenzfreie Bilder herunterladen. Corbis Images – Premium Quality Stock Photography and Illustrations. Stockvault.net - Free Stock Photos and Free Images. Stock Photography - Search 14.4 Million Stock Photos, Stock Footage Video Clips, Royalty Free Images, and Illustrations. Bildagentur Fotosearch - 9.4 Millionen Lizenzfreie Stock Fotografien, Filmmaterialien, Illustrationen von Stock Foto Händlern. Bildagentur Fotosearch - 9.4 Millionen Lizenzfreie Stock Fotografien, Filmmaterialien, Illustrationen von Stock Foto Händlern. The leading free stock photography site. Everystockphoto - searching free photos. Free Images - Free Stock Photos. Stock Photos, Stock Illustration, Fonts. The leading free stock photography site. Stock Photography: Search Royalty Free Images & Photos. Deutsch.istockphoto.com | Bildagentur: Fotos kaufen und verkaufen.
iStockphoto.com | Stock Photography: Search Royalty Free Images & Photos. Seiten-Ladefehler. Stock Photos and Royalty Free Image Subscription from 123RF Stock Photography. Stock Fotos & Vektorgrafiken - Lizenzfreie Bilder. Free Stock Photos, Free Images. STOCK PHOTOS. Fotolia.de - Bildarchiv - Bildagentur - lizenzfreie Bilder - Stockfotos.
Lizenzfreie Bilder auf Fotolia.de. Sofortiger Zugriff auf brillante Fotos und Videos zur Erstellung professioneller Präsentationen, für Microsoft Office Word oder PowerPoint.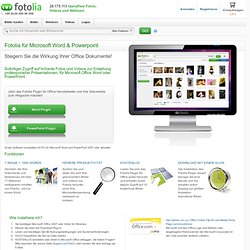 Gratis Software kompatibel mit PC für Microsoft Word und PowerPoint 2007 oder aktueller. Funktionen Veredeln Sie Ihre Dokumente und Slideshows mit über 17 Millionen verfügbaren Inhalten von Fotolia - mit nur einem Klick! Photocase - Creative Stock Photography that's good for your eyes. Aboutpixel.de - kostenlose lizenzfreie Bilder für alle! Free Royalty Free Photos, Pictures, Images And Stock Photography. Photos.com - Stock Photos - Professional Royalty-Free Stock Photos by Subscription at Photos.com. Historical Stock Photos.com - Free Historical Stock Photos for Emails and Personal Websites - 242. Photocase - kreative Stockfotos, die gut für Deine Augen sind. Banque d'Images: Photos libres de droits, Illustrations | DepositPhotos.com. Free Stock Photos - Totally Free Commercial Photography and Textures.
Getty Images | Stock-Fotografie, Editorial-Fotos, Film und Musik. Getty Images - Lizenzinformationen. Images et photos libres de droits, images, photos et illustrations LD. Free stock photos - Alegri photos. Bildagentur PantherMedia - lizenzfreie Bilder und Fotos. Bildagentur Pitopia - Ihre Bildagentur für lizenzfreie Bilder. De.alamy.com | Stockfotos und lizenzfreie Bilder: Stockfotografie | Alamy. Zoonar - Foto, Bild, Bildagentur, Photo, Stock Photos, Image, Fotoarchiv, Royalty Free. Free Stock Photos & Images. Bildagentur Bildmaschine. YAY - Quality Stock Images & Illustrations from only $1. Bildmaschine. Die Bildagentur Bildmaschine vermarktet Fotos (Stock und Aktuell) sowie Illustrationen von Profis und Halb-Profis.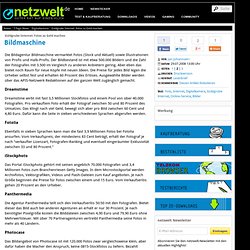 Der Bildbestand ist mit etwa 500.000 Bildern und die Zahl der Fotografen mit 3.500 im Vergleich zu anderen Anbietern gering. Aber eben das bietet noch Raum für neue Köpfe mit neuen Ideen. Die Preise für jedes Bild legen die Urheber selbst fest und erhalten 60 Prozent des Erlöses. Ausgewählte Bilder werden über das APIS-Netzwerk Redaktionen auf der ganzen Welt zugänglich gemacht. Stockfotografie. Stockfotografie ist ein Bereich der Fotografie, bei dem Bilder auf Vorrat ("to have in stock" – "auf Lager haben") produziert werden.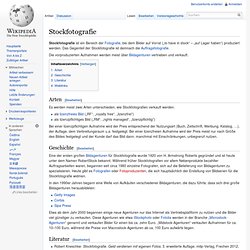 Das Gegenteil der Stockfotografie ist demnach die Auftragsfotografie. Die vorproduzierten Aufnahmen werden meist über Bildagenturen vertrieben und verkauft. Arten[Bearbeiten] 15 websites offering free stock photos. We present to you a list of 15 best free stock photos sites .
Some of these sites sell photos and along with paid offer free stock photos. Such photos usually have Royalty Free license and called royalty free images . It means that you can download these photos free of charge but you can not sell or distribute them in any way. 15 Best Places for Designers to Get Free Stock Photos Online. I'm not sure if you've ever had a look at the prices on some non-stock photography sites (pictures of Gummy bears for $769.00 anyone?)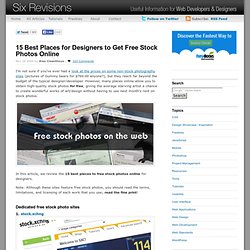 , but they reach far beyond the budget of the typical designer/developer. However, many places online allow you to obtain high-quality stock photos for free, giving the average starving artist a chance to create wonderful works of art/design without having to use next month's rent on stock photos. Category:Stock photography. Stock photography. Industry structure[edit] Getty Images, Corbis and Sipa Press are the three largest traditional stock photography agencies in terms of revenue.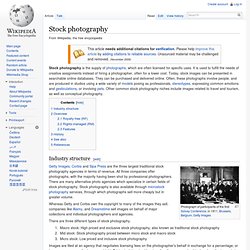 All three companies offer photographs, with the majority having been shot by professional photographers. There are many alternative photo agencies which specialize in certain fields of stock photography. Public domain. Works in the public domain are those whose intellectual property rights have expired,[1] have been forfeited,[2] or are inapplicable.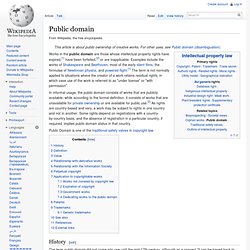 Examples include the works of Shakespeare and Beethoven, most of the early silent films, the formulae of Newtonian physics, and powered flight.[1] The term is not normally applied to situations where the creator of a work retains residual rights, in which case use of the work is referred to as "under license" or "with permission". In informal usage, the public domain consists of works that are publicly available; while according to the formal definition, it consists of works that are unavailable for private ownership or are available for public use.[2] As rights are country-based and vary, a work may be subject to rights in one country and not in another. Royalty-free. Royalty-free, or RF, refers to the right to use copyrighted material or intellectual property without the need to pay royalties or license fees for each use or per volume sold, or some time period of use or sales.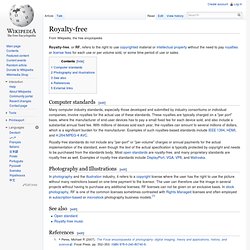 Computer standards[edit] Many computer industry standards, especially those developed and submitted by industry consortiums or individual companies, involve royalties for the actual use of these standards. These royalties are typically charged on a "per port" basis, where the manufacturer of end-user devices has to pay a small fixed fee for each device sold, and also include a substantial annual fixed fee.
With millions of devices sold each year, the royalties can amount to several millions of dollars, which is a significant burden for the manufacturer. Examples of such royalties-based standards include IEEE 1394, HDMI, and H.264/MPEG-4 AVC. Royalty-free music. Production music (also known as stock music or library music) is the name given to recorded music that can be licensed to customers for use in film, television, radio and other media.
Oftentimes, the music is produced and owned by production music libraries. Introduction[edit] Unlike popular and classical music publishers, who typically own less than 50 percent of the copyright in a composition, production music libraries own all of the copyrights of their music. Thus, it can be licensed without the composer's permission, as is necessary in licensing music from normal publishers.
Royalty free. Vector Stock / Royalty Free. Royalties. A royalty (sometimes, running royalties, or private sector taxes) is a usage-based payment made by one party (the "licensee") to another (the "licensor") for the right to ongoing use of an asset, sometimes an intellectual property (IP).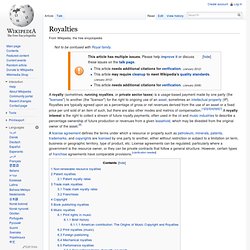 Royalties are typically agreed upon as a percentage of gross or net revenues derived from the use of an asset or a fixed price per unit sold of an item of such, but there are also other modes and metrics of compensation.[1][2][3][4][5][6][7] A royalty interest is the right to collect a stream of future royalty payments, often used in the oil and music industries to describe a percentage ownership of future production or revenues from a given leasehold, which may be divested from the original owner of the asset.[8]
Royalties" Rights Managed. Rights Managed, or RM, in photography and the stock photo industry, refers to a copyright license which, if purchased by a user, allows the one time use of the photo as specified by the license. If the user wants to use the photo for other uses an additional license needs to be purchased. RM licences can be given on a non-exclusive or exclusive basis. In stock photography RM is one of the four common licenses or business models together with royalty-free, subscription and micro.[1] Stock Photo - Frequently Asked Questions. Legally Download and Use Stock Photos Online. Get Answers « Legally Download and Use Stock Photos Online. Get Answers Below you will find questions most of us would ask ourselves before we licensed a stock photo.
This is a mixture of some basic advice, some common sense and some more advanced issues you might want to consider. Got a copyright or licensing question? Stock photo.
---