Note Sticky Highlight Management Web Apps
Lino - Sticky and Photo Sharing for you. Glogster - join the visual communication network. Clipboard - Select. Collect. Reflect. For Flexible Online Creation Collaboration and Sharing. Highlight Web Pages, Share Your Notes | Annotary. Welcome to Posterous Spaces. Posterous - The place to post everything. Just email us. Dead simple blog by email. Evernote.com | Remember Everything - Evernote Corporation.
Diigo - Web Highlighter and Sticky Notes, Online Bookmarking and Annotation, Personal Learning Network. Best content in Diigo In Education. Online Web Notes - UberNote. A free app that helps you remember. Springpad. How It Works | Springpad. Get inspired.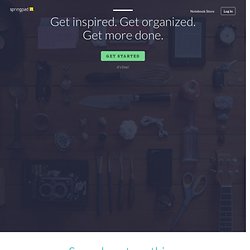 Get organized. Get more done. Get Started. Visual notes / Sketchnotes. Online Notepad | julietherrien's home. TiddlyWiki. A standard edit dialog on a tiddler TiddlyWiki is an open-source single page application wiki.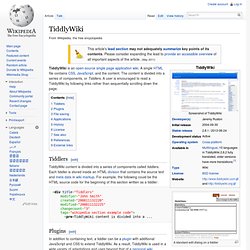 A single HTML file contains CSS, JavaScript, and the content. TiddlyWiki - a reusable non-linear personal web notebook. Tiddlywiki - a TiddlySpace. Memonic - Das kollaborative Online Notizbuch.
Annotate online
Simplenote. An easy way to keep notes, lists, ideas, and more. Wallwisher.com :: Words that stick. Catch.com. Mojonote | Everything you need to remember, in one place. To do list; WorkHack: functional, whiteboard feel, priority visualization by color and size. 20 Interesting, FREE TO-DO, Stickies, Getting Things Done, Web 2.0 websites. Do you have too many things to do?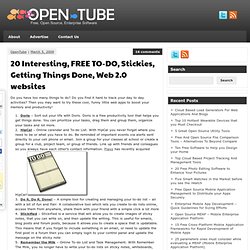 Do you find it hard to track your day to day activities? Then you may want to try these cool, funny little web apps to boost your memory and productivity! Doris – Sort out your life with Doris. Doris is a free productivity tool that helps you get things done. You can prioritize your tasks, drag them and group them, organize your tasks and lot more.HipCal – Online calendar and To-do List.
Less Memories. Notizbuch. Comparison of notetaking software.
---