Software collections
ddownloads
ddownloads
Kostenlose Software-Vollversionen zum Download These days you can find all sorts of things online, from audio books to flash files, from sound effects to CSS templates. Below we compiled a list with over 100 download sites that serve that purpose. We will also try to keep the list updated, so if your favorite download site is not here, let us know about it with a comment.
Update January 22, 2013: This article was originally posted February 7, 2008. Since then, it has been one of our most popular articles here at WHdb.com. In light of this, we have decided to give this article an update for 2013: we cleaned out some obsolete links and added a New for 2013 section. Enjoy!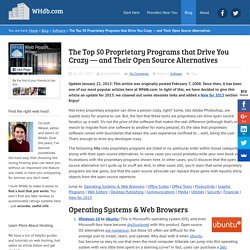 Top 100 Download-Listen - die besten Tools und Utilities des Tages - Top 100
Vollversion des Tages - PC-Welt.de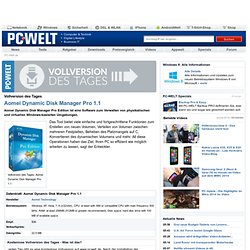 Jeden Tag gibt es eine kostenlose Vollversion auf www.pcwelt.de. Nach der Installation der PC-Software können Sie Ihre Vollversion zeitlich uneingeschränkt nutzen. Jede PC-WELT-Gratis-Vollversion steht in der Regel 24 Stunden lang auf dieser Seite zum Download bereit. Klicken Sie einfach auf den blauen Button "Kostenlose Vollversion laden" in der Vollversion-des-Tages-Box rechts über diesem Text.
Neuer FTP-ClientCyberduckDas FTP-Programm Cyberduck kommt vom Macintosh und zeichnet sich durch seine einfache Bedienbarkeit und den großen Funktionsumfang aus. Beim ersten Start importiert die Software vorangegangene Internet-Browser-Verbindungen zu FTP-Servern – ein Klick genügt, und die Verzeichnisstruktur des Servers erscheint. Neue Verbindungen lassen sich ebenfalls mit ein bis zwei Klicks aufbauen und speichern. Zum Hochladen von Dateien muss man aber zunächst ein weiteres Fenster öffnen – da ist das alteingesessene FileZilla mit seiner Zwei-Fenster-Technik besser.Betriebssystem: Windows XP, Vista, 7 Sprache: DeutschPreis: gratis Internet:http://cyberduck.ch Schnelle Datei-AktionenFiles Suite Standard EditionDie Files Suite ist ein Programm, mit dem sich Standardaufgaben des Windows-Explorers deutlich schneller und komfortabler erledigen lassen.
Ratgeber Software - 20 unbekannte Software-Perlen: Teil 1 - Software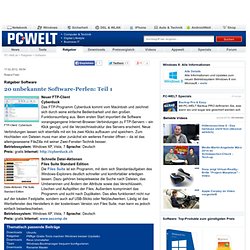 On this page you will find the best Windows software for all your needs. Over 95% of listed apps are free. We've taken the effort to categorize the apps and picked only those we believe to be the best ones and which will most likely be useful to you.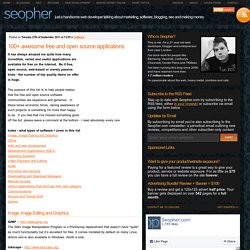 Posted on Tuesday 27th of September 2011 at 13:05 in SoftwareIt has always amazed me quite how many incredible, varied and useful applications are available for free on the Internet. Be it free, open source, web-based or merely passive trials - the number of top quality items on offer is huge. The purpose of this list is to help people realise that the free and open source software communities are expansive and generous. In these tense economic times, raising awareness of such projects is something I'm more than happy to do. If you feel that I've missed something good off the list, please leave a comment at the bottom - I read absolutely every one.
Download-Charts: Top 100
Download-Highlights 2012: Diese Tools müssen Sie kennen
Must-Have Open-Source-Tools
Ohne Virenscanner sollte niemand ins Internet gehen. Die beste Antiviren-Software im Open-Source-Bereich ist das ursprünglich von Linux kommende ClamAV. Das Windows-Pendant ClamWin kann komprimierte Dateien scannen und soll derzeit zirka 80.000 Viren, Würmer und Trojaner aufspüren - vergleichsweise wenig. Auch sonst merkt man der Software an, dass sie noch mitten in der Entwicklung steckt: So fehlt ein automatischer Echtzeit-Scanner. Sie müssen neue Dateien also jedes Mal per Hand scannen.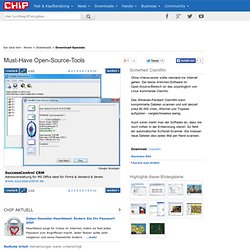 Must-Have-Downloads: Diese Gratis-Software gehört auf jeden PC
Freeware-Arche: Bezahl-Software kostenlos zum Download
20 Web-Applikationen, die das Leben erleichtern
Untergegangene Tools und ihre Nachfolger - Bilder
Freeware: Die besten Gratis-Tools des Monats
Die besten Gratis-Tools 2011 - 189 - Bilder
Software-Klassiker: Diese Tools sind seit Jahren Spitze
EmailShare 4511EmailShare Here are the Top 100 Tools for Learning 2013 – the results of the 7th Annual Learning Tools Survey.The list was compiled by Jane Hart from the votes of 500+ learning professionals from 48 countries worldwide. "A learning tool is a tool for your own personal or professional learning or one you use for teaching or training."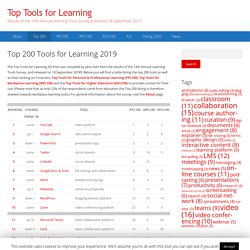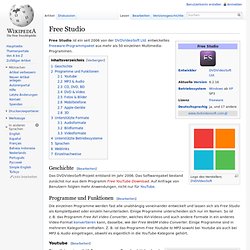 Logo des Herstellers DVDVideoSoft Free Studio ist ein seit 2006 von der DVDVideoSoft Ltd. entwickeltes Freeware-Programmpaket aus mehr als 50 einzelnen Multimedia-Programmen. Geschichte[Bearbeiten]
Free Studio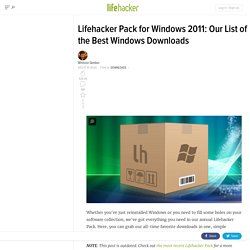 Okay, one more. I know it may be less common these days to want to rename files, but if you've got to get your hands dirty, Rename 1-4a is the utility you need. It's a stand-alone executable that's less than a couple hundred kB, iirc. More renaming options than you'll ever need, including auto-file name generation and numbering.
Windows Software - Open.Source - everything ! FREE SOFTWARE !!! for Windows, Linux & Mac
Download-Tipp.de Software Download, Freeware Downloads, Shareware
The Most Useful Free Web Tools - Organize Yourself Online!
60 Tools in 60 Minutes
Sven Bader Downloads
PC Software
Category:Software comparisons
Computers, Internet & Electronics