Social Media Content Research Tools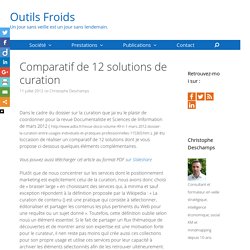 Dans le cadre du dossier sur la curation que j'ai eu le plaisir de coordonner pour la revue Documentaliste et Sciences de l'information de mars 2012 ( http://www.adbs.fr/revue-docsi-volume-49-n-1-mars-2012-dossier-la-curation-entre-usages-individuels-et-pratiques-professionnelles-115365.htm ), j'ai eu l'occasion de réaliser un comparatif de 12 solutions dont je vous propose ci-dessous quelques éléments complémentaires. Vous pouvez aussi télécharger cet article au format PDF sur Slideshare Plutôt que de nous concentrer sur les services dont le positionnement marketing est explicitement celui de la curation, nous avons donc choisi de « brasser large » en choisissant des services qui, à minima et sauf exception répondent à la définition proposée par la Wikipedia : « La curation de contenu (…) est une pratique qui consiste à sélectionner, éditorialiser et partager les contenus les plus pertinents du Web pour une requête ou un sujet donné ».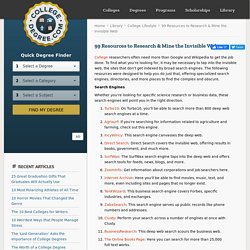 College researchers often need more than Google and Wikipedia to get the job done. To find what you're looking for, it may be necessary to tap into the invisible web, the sites that don't get indexed by broad search engines. The following resources were designed to help you do just that, offering specialized search engines, directories, and more places to find the complex and obscure.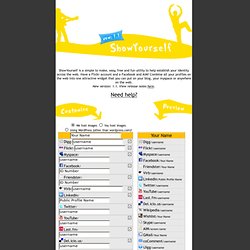 HelpThis tutorial will help you create your widget in no time. Choosing image hostFirst, we need to start customizing your widget. If you look under the customization section, you will see 3 radio buttons to decide between us hosting the images, you hosting the images, or using wordpress.
Say it with Stickers & Doodles Sometimes words just aren't enough. Send stickers, doodles, photos and more in your text/SMS.
Talk.to - Best free chat for Facebook, Google Talk, etc.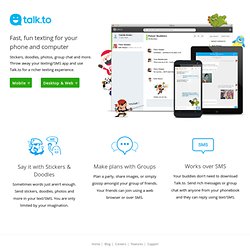 Das Magazin "Website Boosting" hat seit seinem Erscheinen 2010 alle optimistischen Schätzungen übertroffen und ist nach nunmehr über drei Jahren mit sehr viel Beachtung zum festen Bestandteil der Onlinebranche geworden. Das Magazin mit echtem Tiefgang – für ernsthafte Websitebetreiber. Das Magazin richtet sich an alle, die erfolgreich und professionell eine Webpräsenz, einen Shop oder ein Portal planen oder betreiben wollen.
Website Boosting das Magazin für SEO | SEM | USABILITY | E-COMMERCE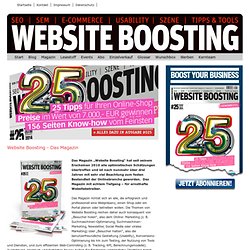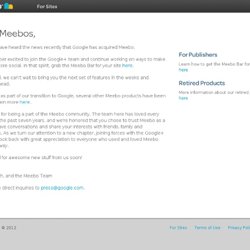 You may have heard the news recently that Google has acquired Meebo. We are super excited to join the Google+ team and continue working on ways to make the web more social. In that spirit, grab the Meebo Bar for your site here . Stay tuned, we can't wait to bring you the next set of features in the weeks and months ahead. Heads up, as part of our transition to Google, several other Meebo products have been retired. Learn more here .
roi.ethority.de | Social Media Kontakte Finanzkalkulator
Heinrich Vaske ist Chefredakteur der COMPUTERWOCHE und verantwortlich im Sinne des Presserechts (v.i.S.d.P.). Seine wichtigste Aufgabe ist die inhaltliche Ausrichtung der Computerwoche - im Web und in der Zeitschrift. Dieser Aufgabe widmet er sich in enger, kooperativer Zusammenarbeit mit dem Redaktionsteam. Vaske verantwortet außerdem inhaltlich die Sonderpublikationen, Social-Web-Engagements und Mobile-Produkte der COMPUTERWOCHE und moderiert Veranstaltungen.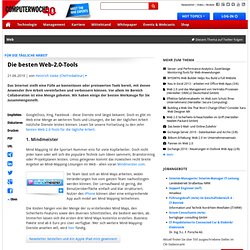 Für die tägliche Arbeit: Die besten Web-2.0-Tools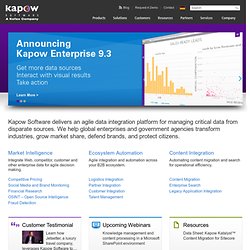 Kapow Software delivers an agile data integration platform for managing critical data from disparate sources. We help global enterprises and government agencies transform industries, grow market share, defend brands, and protect citizens. Integrate Web, competitor, customer and other enterprise data for agile decision making.
Social Network Organisation / Social Media Dashboard
Online Articles & News Content Curation Monitor
Category:Virtual communities
List of virtual communities