Social Media Content Research Tools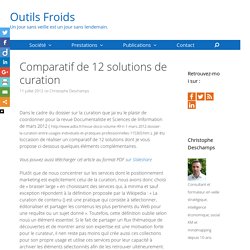 Dans le cadre du dossier sur la curation que j'ai eu le plaisir de coordonner pour la revue Documentaliste et Sciences de l'information de mars 2012 ( http://www.adbs.fr/revue-docsi-volume-49-n-1-mars-2012-dossier-la-curation-entre-usages-individuels-et-pratiques-professionnelles-115365.htm ) , j'ai eu l'occasion de réaliser un comparatif de 12 solutions dont je vous propose ci-dessous quelques éléments complémentaires. Vous pouvez aussi télécharger cet article au format PDF sur Slideshare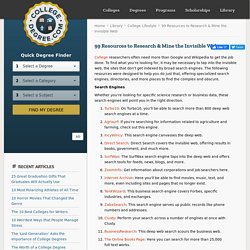 College researchers often need more than Google and Wikipedia to get the job done. To find what you're looking for, it may be necessary to tap into the invisible web, the sites that don't get indexed by broad search engines. The following resources were designed to help you do just that, offering specialized search engines, directories, and more places to find the complex and obscure.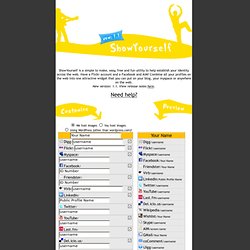 Help This tutorial will help you create your widget in no time. Choosing image host First, we need to start customizing your widget. If you look under the customization section, you will see 3 radio buttons to decide between us hosting the images, you hosting the images, or using wordpress.
Talk.to - Best free chat for Facebook, Google Talk, etc.
Website Boosting das Magazin für SEO | SEM | USABILITY | E-COMMERCE
roi.ethority.de | Social Media Kontakte Finanzkalkulator
GoogleDocs, Xing, Facebook - diese Dienste sind längst bekannt. Doch es gibt im Web eine Menge an weiteren Tools und Lösungen, die bei der täglichen Arbeit nützliche Dienste leisten können. Lesen Sie unsere Fortsetzung zu den zehn besten Web-2.0-Tools für die tägliche Arbeit . 1.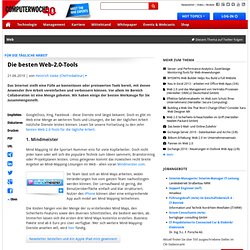 Für die tägliche Arbeit: Die besten Web-2.0-Tools
Social Network Organisation / Social Media Dashboard
Online Articles & News Content Curation Monitor
Category:Virtual communities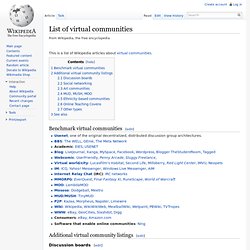 This is a list of Wikipedia articles about virtual communities .
List of virtual communities