Social Media Content Research Tools
Comparatif de 12 solutions de curation. Dans le cadre du dossier sur la curation que j'ai eu le plaisir de coordonner pour la revue Documentaliste et Sciences de l'information de mars 2012 ( ), j'ai eu l'occasion de réaliser un comparatif de 12 solutions dont je vous propose ci-dessous quelques éléments complémentaires.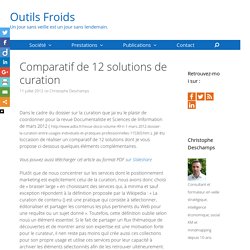 Vous pouvez aussi télécharger cet article au format PDF sur Slideshare Plutôt que de nous concentrer sur les services dont le positionnement marketing est explicitement celui de la curation, nous avons donc choisi de « brasser large » en choisissant des services qui, à minima et sauf exception répondent à la définition proposée par la Wikipedia : « La curation de contenu (…) est une pratique qui consiste à sélectionner, éditorialiser et partager les contenus les plus pertinents du Web pour une requête ou un sujet donné ».
99 Resources to Research & Mine the Invisible Web. College researchers often need more than Google and Wikipedia to get the job done.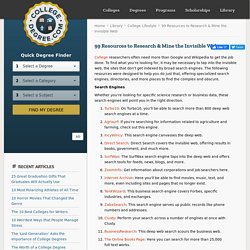 To find what you're looking for, it may be necessary to tap into the invisible web, the sites that don't get indexed by broad search engines. The following resources were designed to help you do just that, offering specialized search engines, directories, and more places to find the complex and obscure. Daylife. ShowYourself Widget. HelpThis tutorial will help you create your widget in no time.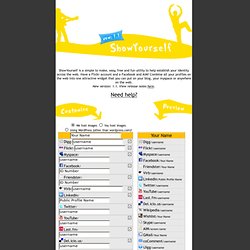 Choosing image hostFirst, we need to start customizing your widget. If you look under the customization section, you will see 3 radio buttons to decide between us hosting the images, you hosting the images, or using wordpress. Talk.to - Best free chat for Facebook, Google Talk, etc. Website Boosting das Magazin für SEO | SEM | USABILITY | E-COMMERCE.
Meebo: More of What You Love. Topsy - Real-time search for the social web. Be The Curator of Your Favorite Topic! Socialbakers ❶ Social media (Facebook, Twitter…) marketing, statistics & monitoring. Platlas: The Social Platform Atlas. Social Media Analytics & Monitoring.
Social Media Managing. Create Social Network. Stribe Community Network - Instant social network for website to boost traffic. Twitterfeed.com : feed your blog to twitter. Roi.ethority.de | Social Media Kontakte Finanzkalkulator. Für die tägliche Arbeit: Die besten Web-2.0-Tools. Heinrich Vaske ist Chefredakteur der COMPUTERWOCHE und verantwortlich im Sinne des Presserechts (v.i.S.d.P.).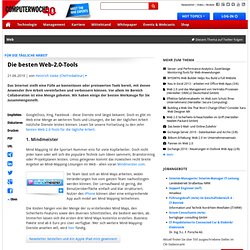 Seine wichtigste Aufgabe ist die inhaltliche Ausrichtung der Computerwoche - im Web und in der Zeitschrift. Dieser Aufgabe widmet er sich in enger, kooperativer Zusammenarbeit mit dem Redaktionsteam. Vaske verantwortet außerdem inhaltlich die Sonderpublikationen, Social-Web-Engagements und Mobile-Produkte der COMPUTERWOCHE und moderiert Veranstaltungen.
Enterprise Application Integration & Process Automation - Kapow Software. Check Username Availability at Multiple Social Networking Sites. Username Check Availability Search.
Online Social Feed Aggregator. Online Articles & News Content Curation Monitor. Newspaper generator. Social Button Generatoren / Generators. Slideshow Web Apps. Category:Virtual communities. List of virtual communities. :fr.
---