Social Button Generatoren / Generators
Neighbors is available for individuals aged 13 years or older. If you are 13 or older but under the age of 18, you should review this Agreement with your parent or guardian to make sure that you and your parent or guardian understand it. Use of the Neighbors requires compatible devices, Internet access, and IM+ software (fees may apply); may require periodic updates; and may be affected by the performance of these factors. By using Neighbors, you agree to the terms of this Privacy Policy and you expressly consent to the processing of your Personal Information according to this Privacy Policy.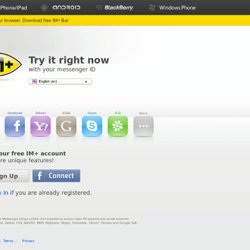 Add a Twitter Button to your Tumblr BlogTumblring
12:12 pm // Tuesday 27 April 2010 Updated in May 2012 There doesn't seem to be a simple step-by-step guide on the web so I'm writing this, particularly for Tumblr users but it will apply to other platforms too… Copy this code: Go to tumblr.com/customize and click 'Edit HTML'.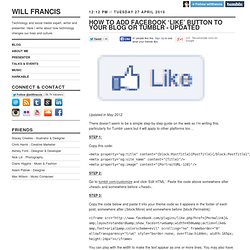 How To Add New Facebook 'Like' Button To Your Blog or Tumblr - WillFrancis.com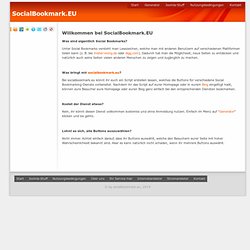 Dein Social Bookmarking Script bei SocialBookmark.eu
Was sind eigentlich Social Bookmarks? Unter Social Bookmarks versteht man Lesezeichen, welche man mit anderen Benutzern auf verschiedenen Plattformen teilen kann (z. B. bei mister-wong.de oder digg.com). Dadurch hat man die Möglichkeit, neue Seiten zu entdecken und natürlich auch seine Seiten vielen anderen Menschen zu zeigen und zugänglich zu machen. Was bringt mir socialbookmark.eu?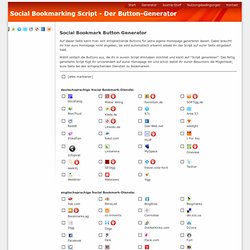 Auf dieser Seite kann man sich entsprechende Buttons für seine eigene Homepage generieren lassen. Dabei braucht ihr hier eure Homepage nicht angeben, sie wird automatisch erkannt sobald ihr das Script auf eurer Seite eingebaut habt. Wählt einfach die Buttons aus, die ihr in eurem Script drinhaben möchtet und klickt auf "Script generieren". Das fertig generierte Script fügt ihr unverändert auf eurer Homepage ein und schon bietet ihr euren Besuchern die Möglichkeit, eure Seite bei den entsprechenden Diensten zu bookmarken.
Social Bookmarking Script - Der Button Generator
Social Bookmark Script - Web 2.0 Optimierung
Social Bookmarking Tools - Schnell und einfach zur Social-Bookmark-Verlinkung! Social Bookmarking ist ein wichtiges Werkzeug zur Steigerung des Bekanntheitsgrades Ihrer Webseite. Der Script Code Generator generiert schnell, kostenlos und ohne Anmeldung Icons bzw. Buttons für viele Social Bookmark Dienste. Die Besucher Ihrer Webseite haben daraufhin die Möglichkeit, direkt bei den gewünschten Social Bookmark Diensten Ihre Lesezeichen zu setzen. Beispiel: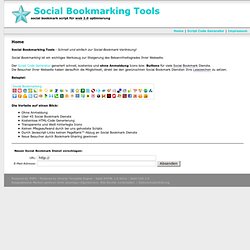 Home - Social-Bookmarking-Tools.de
Social Bookmark Link Generator - Social Bookmarking Service - BookmarkCraze.com
unnamed pearl