Social Bookmarking Tools
The positive effects of social bookmarking for publishers of news sites, blogs and other web sites is outstanding. Social bookmarking can introduce the sites that you own or you like to others with relevant tastes, can drive traffic to your site, and valuable backlinks. Get more traffic with SEOLinkVine!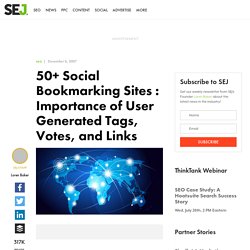 AddThis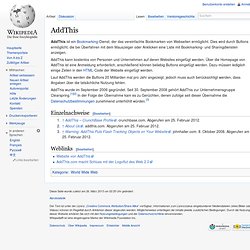 AddThis ist ein Bookmarking -Dienst, der das vereinfachte Bookmarken von Webseiten ermöglicht. Dies wird durch Buttons ermöglicht, die bei Überfahren mit dem Mauszeiger oder Anklicken eine Liste mit Bookmarking- und Sharingdiensten anzeigen. AddThis kann kostenlos von Personen und Unternehmen auf deren Websites eingefügt werden. Über die Homepage von AddThis ist eine Anmeldung erforderlich, anschließend können beliebig Buttons eingefügt werden. Dazu müssen lediglich einige Zeilen in den HTML -Code der Website eingefügt werden.
Clipix Bookmarks Deutschsprachig - Seitwert: Clipix - Seitzeichen: Clipix - Technorati: Clipix Clipix: Webinhalte für später speichern Auf Clipix kann man ablegen, was einem beim Surfen im Web begegnet ist, man aber für später speichern wollte. Das können Produkte in Shoppingportalen, interessante Blogartikel oder auch Kochrezepte sein. clipix.com Details Deine Wertung! Flipora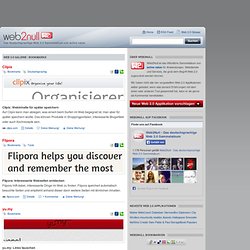 Bookmarks
Share, Bookmark, Email a page - Lockerz Share - AddToAny
Share - Customize Buttons & Menu
Share API & customization
Services - AddToAny