Slider
Pro Image Flow Description:NEW and revamped, Pro Image Flow is one... | ProJoom - Joomla! Professional Extensions. Description:NEW and revamped, Pro Image Flow is one of the best flow-like package ever made for Joomla!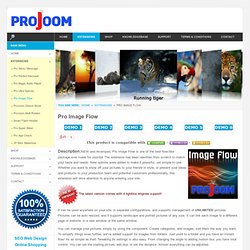 The extension has been rewritten from scratch to match your taste and needs. New options were added to make it powerful, yet simple to use. Whether you want to show off your pictures to your friends in style, or present your ideas and products to your production team and potential customers professionally, this extension will drive attention to anyone entering your site. The latest version comes with 4 lightbox engines support! It can be used anywhere on your site, in separate configurations, and supports management of UNLIMITED pictures.
The Piecemaker 2 - free and Open Source image rotator by Modularweb. 1.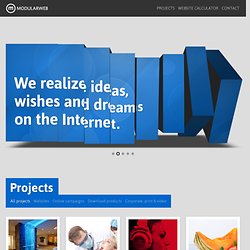 The project basis Individual consulting regarding website concept & technologies Every first meeting or contact in general with us is always free of charge. Before we actually bill anything, we'll discuss your project in detail and provide suggestions in terms of design and technology. 0 € Individual concept, design and development of the website base layout The process of concept- and design evaluation is always done in close cooperation with you. Jquery Slider | jQuery Slider. WOW Slider : jQuery Image Slider & Carousel.
---