Schiff
ShipAIS
lakes_and_oceans_large.png (PNG-Grafik, 2592 × 1728 Pixel) - Skaliert (49%)
Sailwx.info: ship maps, weather, tides, hurricanes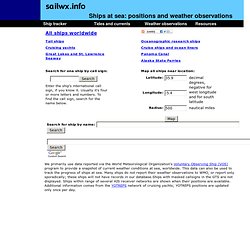 Custom Search
Ships at sea: positions and weather observations
die freie Seekarte
OpenSeaMap
Examples of how to fly the flags on ships
Flags of galleons, navy ships in general, ships of the line, till 19th century, with small national flag as jack, national flag at the foremast, streamers at the main, royal standard at the mizzen, and navy flag.
THB Täglicher Hafenbericht ❘ Die wichtigsten News, Events, Jobs und Bücher zur maritimen Wirtschaft.
Weekly Sea Surface Temperature Anomalies
Elektronischer Wasserstraßen-Informationsservice - [Pegelauswahl über Karte]
LocalizaTodo
AIS-Schiffspositionen/-verkehr in Echtzeit
Windtabellen mit norw. Übersetzungen
Kategorie: Portal:Schifffahrt
Portal:Schifffahrt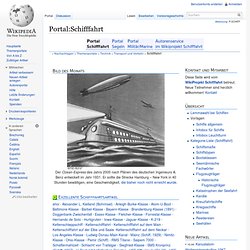 Geschichte und Kultur
Alphabete Buchstabieren @ Not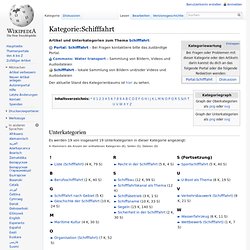 Artikel und Unterkategorien zum Thema Schifffahrt : Portal: Schifffahrt – Bei Fragen kontaktiere bitte das zuständige Portal. Schifffahrt – lokale Sammlung von Bildern und/oder Videos und Audiodateien
Kategorie: Schifffahrt
Unter Schifffahrt versteht man die Benutzung von Wasserfahrzeugen auf Binnengewässern und Meeren zu unterschiedlichen Zwecken, vor allem zur gewerbsmäßigen Beförderung von Personen und Gütern . Der Begriff "Schifffahrt" ist nicht mit Schiffsfahrt , also einer Fahrt mit einem Schiff, zu verwechseln. Geschichte [ Bearbeiten ]
Schifffahrt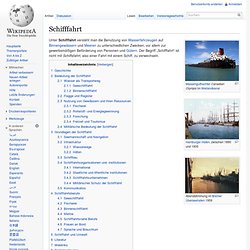 Kategorie: Liste (Schifffahrt)
Dies ist eine Liste speziell seemännischer Fachausdrücke (neben Soziolekten auch umgangssprachliche Ausdrücke) nebst Erläuterung, die an Bord von see- und binnen-gängigen Schiffen benutzt werden (siehe auch Portal:Schifffahrt ; es enthält ein Verzeichnis von Artikeln zum Thema Schifffahrt ): A [ Bearbeiten ] Signalflagge – A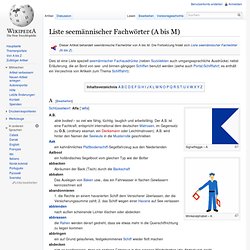 Liste seemännischer Fachwörter (A bis M)
Die erste Hälfte findet sich unter Liste seemännischer Fachwörter (A bis M) .
Liste seemännischer Fachwörter (N bis Z)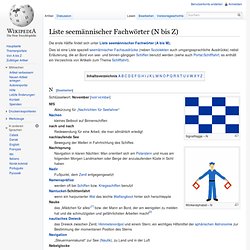 Kategorie: Schifffahrt nach Gebiet
Artikel zum Thema Seeschifffahrt , Einzelne Schiffe oder Schiffstypen werden jedoch unter der entsprechenden Typkategorie eingetragen wie Eisenbahnfähre , Tanker usw.
Kategorie: Seeschifffahrt
Kategorie: Seemannschaft
Kategorie: Wasserfahrzeug
Schiffe der Seestreitkräfte Wasserfahrzeuge sind Fahrzeuge , die zur Fortbewegung auf dem oder im Wasser bestimmt sind. Wesentlichste Unterscheidung, mit auch rechtlichen Konsequenzen, ist die Art des Antriebs, die grob in der Reihenfolge ihres Aufkommens einzuteilen ist:
Wasserfahrzeug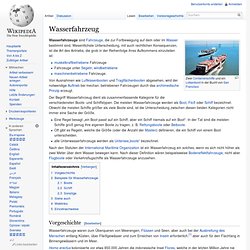 Kategorie: Schiff
Diese Kategorie enthält Artikel zu konkreten einzelnen Schiffen .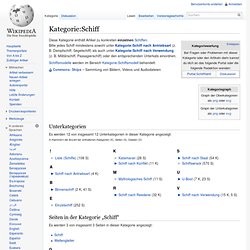 YACHT online - Europas grösstes Segelmagazin im Netz | YACHT.DE
YACHT-FORUM
Schiff
Schlepper Fairplay 26