Other Occupy Ideas & Variations
Occupy Quad Cities
If you haven't noticed there is a Food Revolution going on where we take back the food supply from the petrochemical corporate interests who don't care much about the health effects from their industrial food. For us to have a successful Food Revolution we need as many people in the Quad Cities as possible to have the essential skills necessary to take on the food giants. All fruit trees are propagated by grafting. If we are going to have people that are able to make hundreds of a certain type of apple tree from cuttings of the tips of a few branches then we need to have as many people as possible learn to graft fruit and nut trees. I envision a day when a bunch of people are trading whips, buds, and grafts and making people 3 and 4 way apple trees where each variety does particularly well in our area. Will you be a leader in the Food Revolution?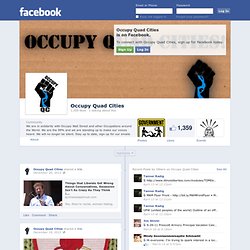 Facebook
Occupy your bank account
Occupy Space Coast
irring success. But Occupy eschewed political organization, discipline, and strategy. It wanted to remain outside politics, and outside any hierarchical structure that might begin to replicate the hierarchies of American society it was opposing. So that when mayors, other public officials, and university administrators cleared the Occupy encampments by force -- encampments that had become the symbol of the movement -- nothing seemed to remain behind. Some Occupiers made plans for further actions, but a movement without structure, discipline, and strategy proved incapable of sustaining itself.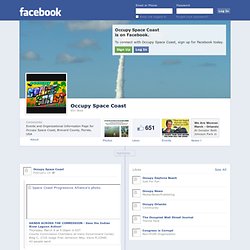 Facebook
Occupy Mordor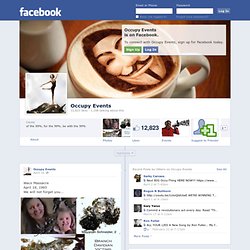 ASA president-elect backs Israel boycott The American Studies Association's president-elect has said she is "fully supportive" of the association's decision to boycott Israeli academic centers. New York University Cultural Analysis Profes...sor Lisa Duggan, who has been elected President of the ASA, has told the New York Post that she supports the boycott of Israeli academic institutions in protest against their "discriminatory treatment of Palestinians." Professor Duggan told the Post in an email that she is "fully supportive of the [ASA] boycott of Israeli academic institutions. We are not boycotting individuals, but only institutions ...[to protest] the discriminatory treatment of Palestinians by Israeli academic institutions that aid and support the illegal occupation."
Facebook
Facebook
(1) Occupy Winter
occupy everything
Facebook
Facebook
Facebook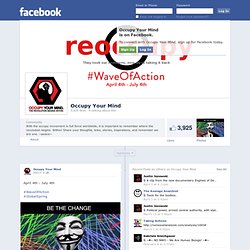 On Sept. 10, 2001 Donald Rumsfeld, the Secretary of Defense, announced that $2.3 trillion in Pentagon spending could not be accounted for. The next day, U.S. history was torn asunder when flight 175 hit the South tower (WTC 2). Within 56 mi...nutes, not much longer than it takes to preheat an oven, 1.65 million cubic meters of concrete and steel was turned into dust. Although it was the first time any steel-framed, concrete building disintegrated from fire, it wouldn't be the last. Three buildings collapsed into their footprints that day, in an event so magical, so mythological, it divided history like the baby Jesus into pre- and post-9/11. A month later, the Patriot Act was signed, and we declared another indefinite war on a noun.
Facebook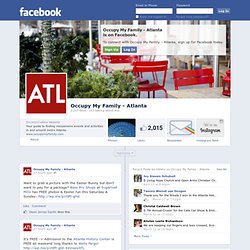 Bad News/Good News: Bad News - Facebook is making it harder for you to be true OMF fans. Due to a change in the way newsfeed information is viewed, fans are seeing ~40% less of the posts of sites they're fans of than they were last year at this time. This gives fans less opportunities to interact with pages and within a short amount of time, moves those page feeds off your newsfeed into relative ...obscurity. Good News - We found a way to make sure you get our news!
Occupy Concord
Facebook
History is only meant to occupy space in our brains.
10,000 Dead Heads to Occupy Wall Street on 11/10/11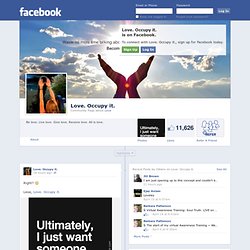 Facebook
You are Cordially Invited! ~ I would like to extend a warm, heartfelt welcome to each of you to like and share any of these pages that resonate with you; as I share my love and guided inspiration with you through my work here in social media. Thank you! Many of you are already familiar with some of my pages (thanks again!). Calling All Angels (https://www.facebook.com/LesasAngels?ref=ts) was the first page I created in August of 2011; soon after, Kaylene Willoughby added me as admin to Heart Centered Rebalancing (https://www.facebook.com/pages/Heart-Centered-Rebalancing/217354048278408?
Facebook
Facebook
1. Calling women sluts/whores/skanks is a form of sexism. When it comes to costumes, clothing, and sexual behavior, women are judged by a very different rubric than men. W...hen a guy has a lot of sex, he's a stud. If a woman behaves the same way, she's a "whore", "dirty", "used up", and doesn't deserve to be treated with respect.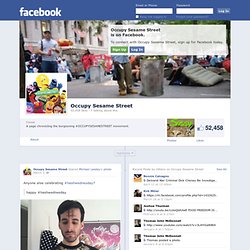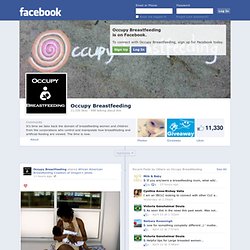 Does your partner ever wish they could breastfeed? Has your partner's view of your breasts and of breastfeeding in general changed since you started breastfeeding? Do new dads and partners need training and education in breastfeeding?
Facebook
Operation: Occupy my house! - Entreprise locale - Copperas Cove, TX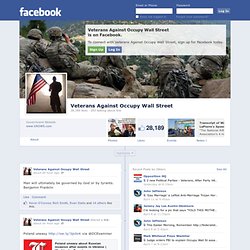 Veterans Against Occupy Wall Street
The Jefferson Memorial: Jefferson's Quote from the Panel of the Northeast Interior Wall. "God who gave us life gave us liberty. Can the liberties of a nation be secure when we have removed a conviction that these liberties are the gift of... God?
Occupy Everything
Occupy GameDay
Occupy Eureka
Occupy Misfits
Facebook
Facebook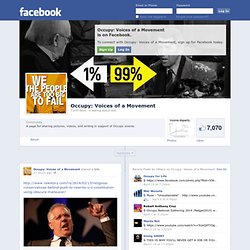 No pension in America is safe if this is allowed to stand: Detroit's so-called emergency manager appointed by Gov. Rick Snyder (R) to take the city into bankruptcy over its $18 billion in long-term debt, is claiming the financial problems were caused by pension and health care benefits and wasted no time following the judge's ruling today outlining his plans to cut retirees' pensions. see: http://www.aflcio.org/Blog/In-The-States/Orr-Takes-Immediate-Aim-at-Pensions-After-Judge-OKs-Detroit-Bankruptcy Please LIKE and SHARE this post. Break Wall Street's control of our Government. We need a Robin Hood Tax on Wall Street … and a movement that forces legislators to care about our communities… It's time for the people to take control of the US priorities.
Occupy Mobile
Facebook
Since there are been almost two hundred arrests of non-violent Occupy protestors this weekend.. I'm changing the numbers in this spot and the tagline/headline. WHich headline do you prefer to replace "What will stand up for": "Stop the i...nfringement of our Constitutional rights" "Stop arresting non-violent protestors."
Facebook
Occupy Herbalism
Happy Full Moon and Fall Equinox! Our first Bioregionally Focused Medicinal Plant Festival of the Deep South is just around the corner and we need your help to make it successful. We are so excited to share all of the wonderful festivities we have planned centering around a seasonal focus of Day of the Dead and honoring culturally diverse ancestral knowledge as well as modern-day western clinica...l approaches to herbalism down here in the Deep South. Could you please forward this out to your students and other interested herbalists about our upcoming Herbalismo!
Facebook
via David Kirby The OTHER Blackfish Effect Hi, several people have asked what impact Blackfish has had on DASW, and I would have to say it has been very positive. This morning, the Amazon numbers were still running strong for Kindle and P...aperback, especially for an 18-month-old title!
Facebook
Occupy Solutions
Facebook
Occupy Spots
Facebook
Women Occupy
OOWS (OccupyOccupyWallStreet)