Organisierung & Tools
I'm an Organizing Junkie. EndNote. EndNote ist ein kommerzielles Literaturverwaltungsprogramm für Microsoft Windows und Mac OS X, welches die Onlinesuche in Datenbanken (z.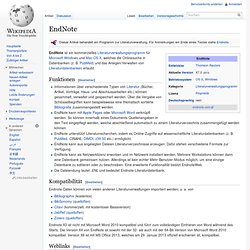 B. PubMed) und das Anlegen/Verwalten von Literaturdatenbanken erlaubt. Adept Scientific GmbH - The Technical Computing People. Neu in EndNote X6 Schauen Sie sich hier eine EndNote Einführung an!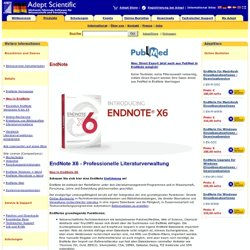 EndNote ist weltweit der Marktführer unter den Literaturmanagement-Programmen und in Wissenschaft, Forschung, Lehre und Entwicklung gleichermaßen geschätzt. Die einzigartige Leistungsfähigkeit beruht auf der Integration der drei grundlegenden Funktionen: Direkte Online-Recherche in Fachinformationsdatenbanken und Bibliothekskatalogen, die direkte Übernahme und Verwaltung recherchierter Literatur in eine eigene Datenbank und die Fähigkeit, in Zusammenarbeit mit Textverarbeitungsprogrammen automatisch Referenzlisten zu erstellen . EndNotes grundlegende Funktionen: EndNote. EndNote is a commercial reference management software package, used to manage bibliographies and references when writing essays and articles.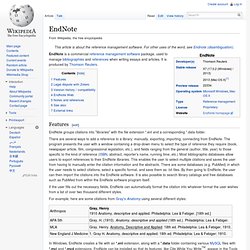 It is produced by Thomson Reuters. Features[edit] Free reference manager and PDF organizer. Zotero | Home. ZotFile :: Firefox Add-ons. ZotFile. Blog » Blog Archive » Zotero & Wikipedia: Perfect Together.
Adressen & Termine
Personal Information Manager. InfoRapid - Software für Projektmanagement, MindMaps, Wissensmanagement, Dokumentenmanagement, Dokumentenverwaltung - Freeware von Straub Softwareentwicklung. 50 Tricks to Get Things Done Faster, Better, and More Easily. We all want to get stuff done, whether it's the work we have to do so we can get on with what we want to do, or indeed, the projects we feel are our purpose in life.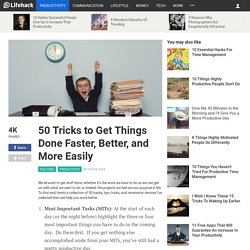 To that end, here's a collection of 50 hacks, tips, tricks, and mnemonic devices I've collected that can help you work better. Most Important Tasks (MITs): At the start of each day (or the night before) highlight the three or four most important things you have to do in the coming day. Do them first. If you get nothing else accomplished aside from your MITs, you've still had a pretty productive day.Big Rocks: The big projects you're working on at any given moment. Collaborative Task/Todo Management. Social Collaboration. Mind-Map & Brainstorming / Mindmapping.
---