Mind Map Software
MindRaider
MindRaider is personal notebook and outliner. It aims to connect the tradition of outline editors with emerging technologies. MindRaider mission is to help you in organization of your knowledge and associated web, local and real world resources in a way that enables quick navigation, concise representation and inferencing. Where do you keep private remarks like ideas, personal plans, gift tips, howtos, dreams, business vision, poker strategy, auto coaching notes? Loads of documents, sketches and remarks spread around the file system, web and Post-it notes? Are you able to find then again once you create them?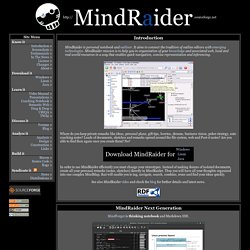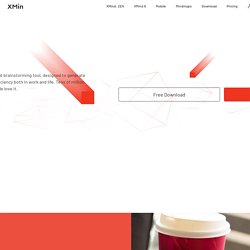 Works with Office/PDF How to make colleagues access our mind map if they don't have XMind? With some simple operations, we can export our mind map into about 10 universal formats by the export functionality. By this way, your team can collaborate seamlessly.
Time_management
Calendar 2011
Blog Archive » GTD XMind template
Posted on March 29th, 2011 in Featured, XMind Basic | 17 Comments » Today, we're glad to share a special GTD template created by Mr. Adnan Adam Onart, working at Boston University. The template is composed with 6 sheets which are linked with each other. Mr.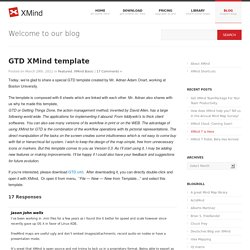 FreeMind is a premier free mind-mapping software written in Java. The recent development has hopefully turned it into high productivity tool. We are proud that the operation and navigation of FreeMind is faster than that of MindManager because of one-click "fold / unfold" and "follow link" operations. So you want to write a completely new metaphysics?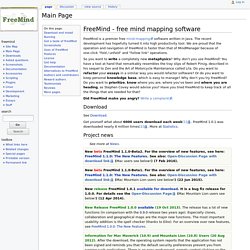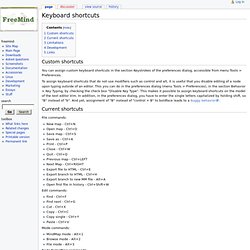 Keyboard shortcuts
From FreeMind Custom shortcuts You can assign custom keyboard shortcuts in the section Keystrokes of the preferences dialog, accessible from menu Tools > Preferences. To assign keyboard shortcuts that do not use modifiers such as control and alt, it is useful that you disable editing of a node upon typing outside of an editor. This you can do in the preferences dialog (menu Tools > Preferences), in the section Behavior > Key Typing, by checking the check box "Disable Key Type".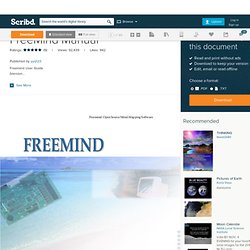 Freemind: Open Source Mind-Mapping Software Table of Contents 1.0 Introduction to Freemind......................................................................................6
Freemind
The Managing Director of Microsoft Australia, Pip Marlow is a NovaMind user. Here is what she has to say about NovaMind: "Many folks would have discovered NovaMind Mind Mapping via the Windows desktop and now it's great to see it reimagined as a Windows 8 app! Like many people these days, I deal with a lot of information and data in my job. The NovaMind Mind Mapping app is valuable tool to synthesise and make sense of all of that information in a visual and 'big picture' way." Note that NovaMind is available for Windows Desktop (Windows 7, 8, Vista), Windows 8, and Mac OS X.