Mind Map Software
MindRaider
Das Erstellen von Mindmaps ist eine große Hilfe beim Konzipieren umfangreicher Projekte – MindRaider hilft Ihnen dabei. Etwa können Sie einzelne Bestandteile einer Karte mit Attributen versehen und die Punkte immer wieder verschieben oder ergänzen, sobald sich an dem Projekt etwas ändert. Tipp: Falls Sie häufiger in Gruppen arbeiten, ist das Tool besonders zu empfehlen, weil Sie Ihre Mindmaps über das Netz zur Bearbeitung freigeben können. Fazit: Einmal eingearbeitet hilft das Tool beim strukturierten Arbeiten und Ideen entwickeln.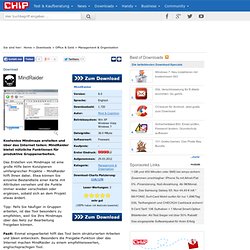 Time_management
Calendar 2011
Blog Archive » GTD XMind template
Posted on March 29th, 2011 in Featured, XMind Basic | 17 Comments » Today, we're glad to share a special GTD template created by Mr. Adnan Adam Onart, working at Boston University. The template is composed with 6 sheets which are linked with each other. Mr.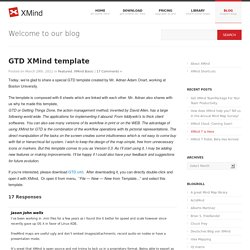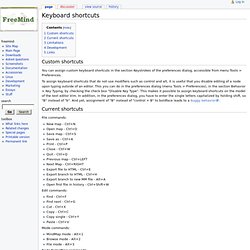 Keyboard shortcuts
From FreeMind Custom shortcuts You can assign custom keyboard shortcuts in the section Keystrokes of the preferences dialog, accessible from menu Tools > Preferences. To assign keyboard shortcuts that do not use modifiers such as control and alt, it is useful that you disable editing of a node upon typing outside of an editor. This you can do in the preferences dialog (menu Tools > Preferences), in the section Behavior > Key Typing, by checking the check box "Disable Key Type".
Freemind