Logo
Free Logo Creation Online | Trademark a Word, Logo, Design or Symbol - Online. Fast & Easy| Experienced Logo Designers| Get Your Logo Now!
Online Logo Maker was created with a single purpose:to bring a free professional logo design tool to everyone, focusing on usability and quality. Our logo creator is FREE, start creating your brand right now! Some of the features are: A lightweight, functional and clean interface;Hundreds of symbols of various categories to choose from;The right tools to rotate, resize and transform your logo;Logo ready fonts selected by professional designers;More than a hundred thousand logos developed by users worldwide!!!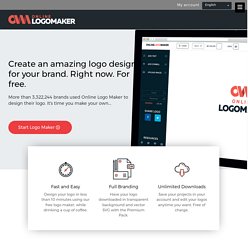 Create a Logo Online
FREE Logo Maker - FREE Logo Creator - FREE Online Logo Design
Free Logo Services Testimonials "My partner and I almost paid $300 to a logo designer until we found FreeLogoServices.com"- Steven Antonuchi, Jersey Pizza Supplies "I loved it.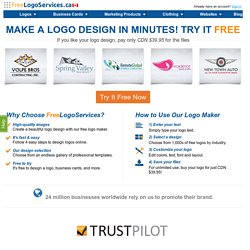 Cidade dos Logos - Criação de logos, logotipos e logomarcas
Logo Maker : Search Engine Maker - FunnyLogo.net - Personal Search Maker
LOGASTER | Logo Maker and Generator | Online Software
Options Before downloading the free logo maker software below, take just 5 minutes to read the information on this page because it may save you a lot of time and money whilst increasing the chance of success for your business! 1. Welcome to the Logo Generator - Over 100,000 Logos and counting! LogoGenerator Logo Templates Why pay an artist hundreds of dollars when you don't need to? Our ever increasing library of Logo Templates offers a huge selection of styles and typefaces - something to suit the needs of most anyone. And whats more? It is totally FREE* of cost.
Logo Generator - your logo is just a click away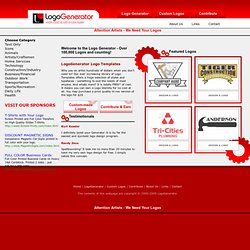 logo source