HTML5
HTML5 Rocks - A resource for open web HTML5 developers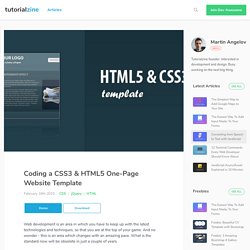 Coding a CSS3 & HTML5 One-Page Website Template
Martin Angelov Web development is an area in which you have to keep up with the latest technologies and techniques, so that you are at the top of your game. And no wonder – this is an area which changes with an amazing pace. What is the standard now will be obsolete in just a couple of years. But changes do not come from nowhere. The early adopters are already using what we are going to use day-to-day a few years from now.
HTML5 Demos and Examples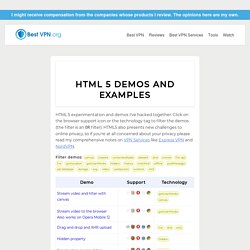 HTML 5 experimentation and demos I've hacked together. Click on the browser support icon or the technology tag to filter the demos (the filter is an OR filter). Learn the power tools for your job: git, SASS, require.js and more One day of tutorials run by 3 different teachers. Choose 4 topics from: git, require.js, SASS, testing, debugging and build processes - and master your tools.
Dive Into HTML5
Dive Into HTML5 elaborates on a hand-picked selection of features from the HTML5 specification and other fine standards. We encourage you to buy the printed work — Mark Pilgrim's artfully titled "HTML5: Up & Running" — published on paper by O'Reilly, under the Google Press imprint. Your kind and sincere feedback is always welcome, and this work shall remain online under the CC-BY-3.0 license.
HTML5 Please - Use the new and shiny responsibly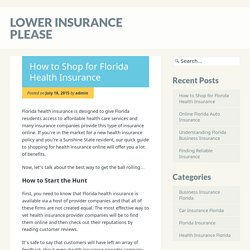 Every individual in Florida needs a number of types of insurance either by law or for peace of mind. But it's also important for a number of them to have Florida business insurance too. Without this, their whole company could end up becoming quite the liability over night. Business Insurance The truth, however, is that business insurance actually refers to at least four separate versions.
I have to be honest with you: I feel like a fraud writing about JavaScript for HTML5 Doctor. I would feel like a fraud writing about JavaScript for a click-driven ad-splattered content farm, never mind HTML5 Doctor. The thing is though, I'm writing about the classList API, and it's super easy. If your JavaScript-fu isn't great and you're wary of HTML5 APIs, this one is at the perfect temperature for toe-dipping, and it'll leave you pleasantly surprised at just how easy it is.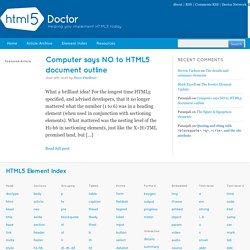 HTML5 Doctor, helping you implement HTML5 today
HTML5 Presentation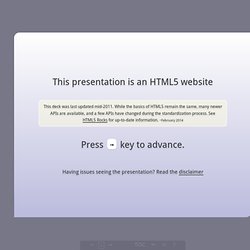 In March 1936, an unusual confluence of forces occurred in Santa Clara County. A long cold winter delayed the blossoming of the millions of cherry, apricot, peach, and prune plum trees covering hundreds of square miles of the Valley floor. Then, unlike many years, the rains that followed were light and too early to knock the blossoms from their branches. Instead, by the billions, they all burst open at once. Seemingly overnight, the ocean of green that was the Valley turned into a low, soft, dizzyingly perfumed cloud of pink and white.
The HTML5 test score is an indication of how well your browser supports the upcoming HTML5 standard and related specifications. Even though the specification isn't finalized yet, many features are already supported and all major browser manufacturers are making sure their browser is ready for the future. Find out which parts of HTML5 are already supported by your browser today and compare the results with other browsers. The HTML5 test does not try to test all of the new features offered by HTML5, nor does it try to test the functionality of each feature it does detect. Despite these shortcomings we hope that by quantifying the level of support users and web developers will get an idea of how hard the browser manufacturers work on improving their browsers and the web as a development platform.
The HTML5 test - How well does your browser support HTML5?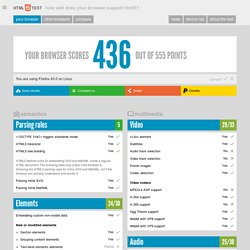 HTML Reference
Dart: Structured web apps | DartLang.org
kirupa.com - Flash and HTML5 Tutorials for Designers and Developers!
Learning to Love HTML5 - Smashing Magazine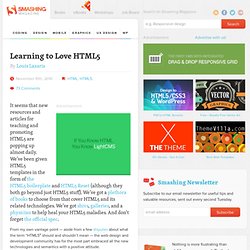 Advertisement It seems that new resources and articles for teaching and promoting HTML5 are popping up almost daily. We've been given HTML5 templates in the form of the HTML5 boilerplate1 and HTML5 Reset2 (although they both go beyond just HTML5 stuff). We've got a plethora of books3 to choose from that cover HTML5 and its related technologies.
This is an opt-in trial of HTML5 video on YouTube. If you are using a supported browser, you can choose to use the HTML5 player instead of the Flash player for most videos. Your comments will help us improve and perfect the mixtures we're working on. So jump in, play around, and send your feedback directly to the brains behind the scenes. Supported Browsers We support browsers that support both the video tag in HTML5 and either the h.264 video codec or the WebM format (with VP8 codec).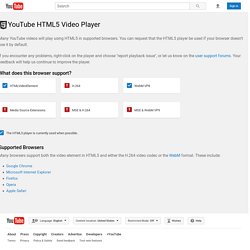 YouTube
Ubuntus Quixotic Mobile War: HTML5 – Not Linux – Is The Key "Making the Web a first-class citizen on mobile devices? That would be a Very Big Deal, and it's one that Canonical has already started to deliver on, as Shuttleworth rightly notes.
Home Page | HTML5 Video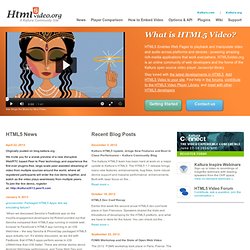 C HTML5 Logo
The Movement You're excited about HTML5; we are too. You've not just been enjoying the HTML5-powered web already — you're building it! As adoption and inspiration spreads, the web community will find creative ways to apply HTML5 and related technologies, spark trends, and capture best practices. As momentum builds, we hope you bring this logo along for the ride and paint the world orange.
HTML5-Logo des W3C HTML5[1] ist eine textbasierte Auszeichnungssprache zur Strukturierung und semantischen Auszeichnung von Inhalten wie Texten, Bildern und Hyperlinks in Dokumenten. Die Sprache befindet sich zurzeit noch in der Entwicklung, es liegen aber bereits recht ausgereifte Entwürfe zweier Entwicklerteams vor. Sie soll die Nachfolge von HTML4 antreten.
HTML5
Stitches - An HTML5 sprite sheet generator
Drag & drop image files onto the space below, or use the "Open" link to load images using the file browser. Then, click "Generate" to create a sprite sheet and stylesheet. This demo uses a couple of HTML5 APIs, and it is only compatible with modern browsers.
HTML5 Playground
A site to explore HTML5 features: canvas, css3, offline storage ...
Basically we are here to embrace HTML5 but this is neither a place that collects a bunch of sites that claimed to be HTML5 site nor a site starts with telling you how to "hello world" a html5 site. What we are doing here is to utilize some of HTML5 new features in real applications that can never be done in HTML4 era. Precisely speaking, we focus more on <canvas> element.
HTML5 Security Cheat Sheet
Last revision (mm/dd/yy): 04/7/2014 The following cheat sheet serves as a guide for implementing HTML 5 in a secure fashion. Web Messaging
Übersicht aller HTML-Elemente – Index von Jens O
HTML5: seriously, it's not just for video
Unterschied HTML5 und XHTML5 ? - XHTMLforum
Wikipedia - HTML5
x-html5.de - Infos zu HTML5 - Tutorials, Layouts und Internet-Empfehlungen
HTML5 Tutorials, Formulare, Elemente, CSS3
Sponsored HTML5 articles and information
HTML5 New Elements
16 Must-Read Tutorials for New HTML5/CSS3 Techniques
List of Videos for HTML5
HTML5 - HTML
Learn HTML5 in 5 Minutes!
HTML5 Semantics
Dancing To The Drumbeat Of HTML5, New Pandora Is Brilliant, Beautiful
HTML 5 - What's New in HTML 5
10 new HTML5 tags you need to know about
What's New in HTML5 Forms: The Datalist Control
HTML Standard
What's new in HTML5: The Track Element
HTML5 is dead. Long live HTML5! | Internet & Media
What's New in HTML5 Media
What's new in HTML5?
HTML5 Weekly: Weekly HTML5 News and Browser Tech Email Newsletter
10 HTML5 news projects / WP Journo: WordPress & Journalism
HTML5 Input Types
New HTML5 structural tags
What's New With HTML5 and CSS3
What's New in HTML5 Forms: Handling Numeric Inputs
HTML5
HTML5 Reference
HTML5
HTML5
HTML5
HTML5 differences from HTML4
HTML5 differences from HTML4
HTML5: Edition for Web Authors
HTML 5.1