HTML5
HTML5 Rocks - A resource for open web HTML5 developers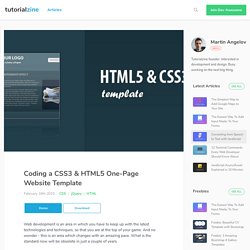 Coding a CSS3 & HTML5 One-Page Website Template
Martin Angelov Web development is an area in which you have to keep up with the latest technologies and techniques, so that you are at the top of your game. And no wonder – this is an area which changes with an amazing pace. What is the standard now will be obsolete in just a couple of years. But changes do not come from nowhere. The early adopters are already using what we are going to use day-to-day a few years from now.
HTML5 Demos and Examples
Dive Into HTML5
HTML5 Please - Use the new and shiny responsibly
HTML5 Doctor, helping you implement HTML5 today
HTML5 Presentation
The HTML5 test - How well does your browser support HTML5?
HTML Reference
Dart: Structured web apps | DartLang.org
kirupa.com - Flash and HTML5 Tutorials for Designers and Developers!
Learning to Love HTML5 - Smashing Magazine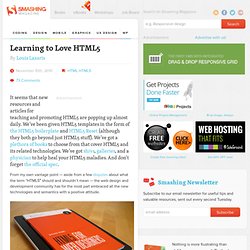 Advertisement It seems that new resources and articles for teaching and promoting HTML5 are popping up almost daily. We've been given HTML5 templates in the form of the HTML5 boilerplate and HTML5 Reset (although they both go beyond just HTML5 stuff).
This is an opt-in trial of HTML5 video on YouTube. If you are using a supported browser, you can choose to use the HTML5 player instead of the Flash player for most videos. Your comments will help us improve and perfect the mixtures we're working on. So jump in, play around, and send your feedback directly to the brains behind the scenes. Supported Browsers We support browsers that support both the video tag in HTML5 and either the h.264 video codec or the WebM format (with VP8 codec).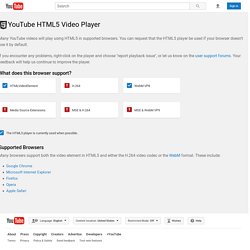 YouTube
Home Page | HTML5 Video
C HTML5 Logo
The Movement You're excited about HTML5; we are too. You've not just been enjoying the HTML5-powered web already — you're building it! As adoption and inspiration spreads, the web community will find creative ways to apply HTML5 and related technologies, spark trends, and capture best practices. As momentum builds, we hope you bring this logo along for the ride and paint the world orange.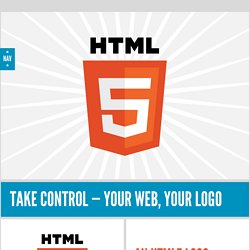 HTML5-Logo des W3C HTML5[1] ist eine textbasierte Auszeichnungssprache zur Strukturierung und semantischen Auszeichnung von Inhalten wie Texten, Bildern und Hyperlinks in Dokumenten. Die Sprache befindet sich zurzeit noch in der Entwicklung, es liegen aber bereits recht ausgereifte Entwürfe zweier Entwicklerteams vor. Sie soll die Nachfolge von HTML4 antreten.
HTML5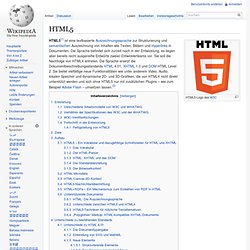 Stitches - An HTML5 sprite sheet generator
Drag & drop image files onto the space below, or use the "Open" link to load images using the file browser. Then, click "Generate" to create a sprite sheet and stylesheet. This demo uses a couple of HTML5 APIs, and it is only compatible with modern browsers.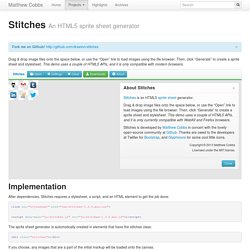 HTML5 Playground
A site to explore HTML5 features: canvas, css3, offline storage ...
HTML5 Security Cheat Sheet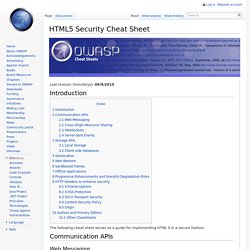 The following cheat sheet serves as a guide for implementing HTML 5 in a secure fashion. Communication APIs Web Messaging
Übersicht aller HTML-Elemente – Index von Jens O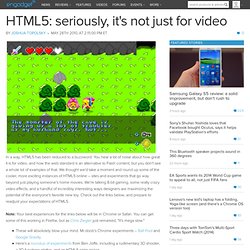 In a way, HTML5 has been reduced to a buzzword. You hear a lot of noise about how great it is for video, and how the web standard is an alternative to Flash content, but you don't see a whole lot of examples of that. We thought we'd take a moment and round up some of the cooler, more exciting instances of HTML5 online -- sites and experiments that go way beyond just playing someone's home movies. We're talking 8-bit gaming, some really crazy video effects, and a handful of incredibly interesting ways designers are maximizing the potential of the everyone's favorite new toy. Check out the links below, and prepare to readjust your expectations of HTML5. Note: Your best experiences for the links below will be in Chrome or Safari.
HTML5: seriously, it's not just for video
Zitat: Ich denke dass ist allen klar, sonst müsste man ja nicht erklären, dass HTML5 dieses Prinzip abschafft Die 5 kannst du als Version der Spezifikation sehen, irgendwann gibt es sicher ein HTML6. Sieh dir mal CSS an: Musst du in eine CSS-Datei reinschreiben, welches Level du verwendest?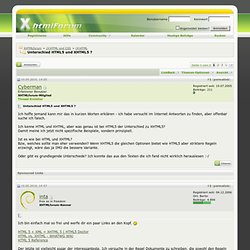 Unterschied HTML5 und XHTML5 ? - XHTMLforum
Wikipedia - HTML5
x-html5.de - Infos zu HTML5 - Tutorials, Layouts und Internet-Empfehlungen
HTML5 Tutorials, Formulare, Elemente, CSS3
Sponsored HTML5 articles and information
HTML5 New Elements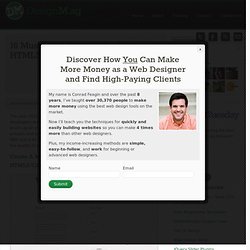 Get the FlatPix UI Kit for only $7 - Learn More or Buy Now The year 2012 has kicked off with a booming design and web industry. More developers are entering the web than ever before and it's the perfect time to brush up on your coding. These tutorials I've added below are fresh off the presses and will help you catch up on all the latest HTML5 & CSS3 trends. With just a bit of practice you can pickup on all these skills and really improve the quality of your coding standards.
16 Must-Read Tutorials for New HTML5/CSS3 Techniques
List of Videos for HTML5
HTML5 is the latest evolution of the standard that defines HTML. The term represents two different concepts: It is a new version of the language HTML, with new elements, attributes, and behaviors, and a larger set of technologies that allows more diverse and powerful Web sites and applications. This set is sometimes called HTML5 & friends and often shortened to just HTML5.
HTML5 - HTML
Learn HTML5 in 5 Minutes!
By Jennifer Marsman There's no question, HTML5 is a hot topic for developers. If you need a crash course to quickly understand the fundamentals of HTML5's functionality, you're in the right place.
HTML5 Semantics
Advertisement Much of the excitement we've seen so far about HTML5 has been for the new APIs: local storage, application cache, Web workers, 2-D drawing and the like. But let's not overlook that HTML5 brings us 30 new elements to mark up documents and applications, boosting the total number of elements available to us to over 100. Sexy yet hollow demos aside, even the most JavaScript-astic Web 2.0-alicious application will likely have textual content that needs to be marked up sensibly, so let's look at some of the new elements to make sure that your next project is as semantic as it is interactive.
Dancing To The Drumbeat Of HTML5, New Pandora Is Brilliant, Beautiful
Perhaps you noticed that TechCrunch went through a bit of a redesign yesterday. Well, we're not the only ones undergoing a major facelift this summer. Another site you all know and love will soon look completely different. More importantly, it will soon function much better. It's a change that will affect millions.
HTML 5 - What's New in HTML 5
10 new HTML5 tags you need to know about
What's New in HTML5 Forms: The Datalist Control
HTML Standard
What's new in HTML5: The Track Element
HTML5 is dead. Long live HTML5! | Internet & Media
What's New in HTML5 Media
What's new in HTML5?
HTML5 Weekly: Weekly HTML5 News and Browser Tech Email Newsletter
10 HTML5 news projects / WP Journo: WordPress & Journalism
HTML5 Input Types
New HTML5 structural tags
What's New With HTML5 and CSS3
What's New in HTML5 Forms: Handling Numeric Inputs
HTML5
HTML5 Reference
HTML5
HTML5
HTML5
HTML5 differences from HTML4
HTML5 differences from HTML4
HTML5: Edition for Web Authors
HTML 5.1