Fonts Sammlungen
40+ Extremely Beautiful FONTS Hand-picked from deviantART. SMeltery - Free. 50 Fresh Free Fonts of 2010. Though there's a broad variety of fonts available for download online, designers keep on tracing the fresh ones to enhance their design copy, a website, brochure, or even an advertisement in a brand new an' awesome way.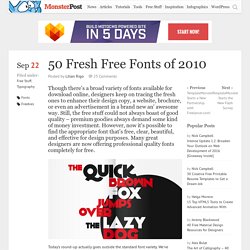 Still, the free stuff could not always boast of good quality – premium goodies always demand some kind of money investment. However, now it's possible to find the appropriate font that's free, clear, beautiful, and effective for design purposes. Many great designers are now offering professional quality fonts completely for free. Die 100 Besten Schriften. Llama font - say it in llama. Dingbats-UK: D-UK closed on 30 Sep 2009 . . . but we have links. 35 hochwertige Freefonts. Für eine hochwertige Schriftfamilie musste man schon immer tief in die Tasche greifen.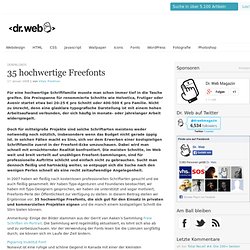 Die Preisspanne für renommierte Schnitte wie Helvetica, Frutiger oder Avenir startet etwa bei 20-25 € pro Schnitt oder 400-500 € pro Familie. Nicht zu Unrecht, denn eine glasklare typografische Darstellung ist mit einem hohen Arbeitsaufwand verbunden, der sich häufig in monate- oder jahrelanger Arbeit widerspiegelt. Doch für mittelgroße Projekte sind solche Schriftarten meistens weder notwendig noch nützlich, insbesondere wenn das Budget nicht gerade üppig ist. Font-Pack: Weihnachten. Für alle, die jetzt anfangen, Weihnachts-Briefe zu verschicken, einen Wunschzettel schreiben möchten oder Einladungen zu einem Weihnachts-Essen verschenken wollen, halten wir 20 passende Weihnachts-Fonts bereit.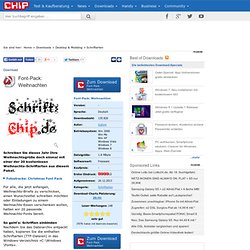 So geht's: Schriften einbinden Nachdem Sie das Dateiarchiv entpackt haben, kopieren Sie die enthalten Schriftarten (TTF-Dateien) in das Windows-Verzeichnis »C:\Windows\Fonts«. Fazit: Die Schriftarten sehen nicht nur schön aus - mit Ihnen erstellen Sie ganz schnell und einfach tolle Weihnachtskarten. Wer viele Schriftarten auf seinem Rechner hat, kann mit dem Font-Manager FontViewOK für mehr Übersicht sorgen.
---