File host share
4shared.com - Kostenloser Dateiaustausch und -speicher. Free File Sharing Made Simple - MediaFire. File Sync & Online Backup - Access and File Sharing from Any Device. Online File Sharing, Send large files, Managed File Transfer, FTP Replacement, with No Email Attachments | YouSendIt. Justbeamit.com. Free File Hosting - Online Storage; Upload Mp3, Videos, Music. Backup Files.
Free large file hosting. Send big files the easy way! Transfer Big Files Free - Email or Send Large Files. Senduit | Share easily. Hulk Share - Music Distribution Platform. FileSlap - file sharing. Free File Hosting and Online Backup Storage. Free file hosting. File sharing. File upload. FileFactory.com.
Gratis unlimitiertes Datei und Image Hosting. Free File Sharing - Minus.com. [ file ai ] - Securely Share Files Too Big To E-mail For Free. Upload Files, MP3, Music. Free File Hosting To Share Files. FilePost.com: Free online storage - fast & secure, userfriendly & reliable! Streamfile - Send. Receive. Now. Free File Hosting, Free Video Hosting, Online File Hosting. Large Files and Images up to 5GB - YourFileLink.com.
Welcome | Filefriend.com. Free File Hosting, mp3 file hosting, Host, Online Storage for Music, Videos, and Documents. LimeLinx - Home - Free File Hosting and Sharing - Audio, Video, Image. Grosse Dateien umsonst direkt zwischen Rechern übertragen | FilesOverMiles. WeTransfer, envoyer jusqu'à 2 Go par e-mail. Avec les limitations dans la taille du fichier qui peut être envoyé par e-mail, nous sommes toujours à la recherche du service idéal qui facilitera le transfert et le partage de ces satanés fichiers volumineux.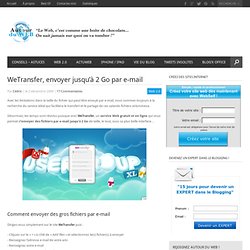 Désormais, tes temps sont révolus puisque voici WeTransfer, un service Web gratuit et en ligne qui vous permet d'envoyer des fichiers par e-mail jusqu'à 2 Go de taille, le tout, sous sa plus belle interface… Dirigez-vous simplement sur le site WeTransfer puis : Web cloud storage & online backup.
---