Domain Namenssuche
webhostlist.de ist ein Online-Magazin rund um Webhosting, Webspace und den eigenen Server (Root oder Virtuell). Wird sind seit 1998 im Markt aktiv und kennen viele Provider von der Pieke auf. Dabei zeigen wir den gesamten Markt mit mehr als 2.000 Anbietern und nicht nur eine kleine Auswahl (bezahlter) Hoster an.
Webhosting & Webspace | webhostlist.de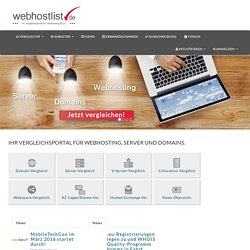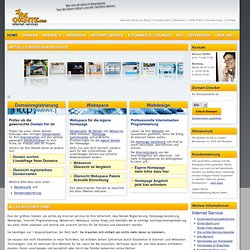 Aktuelle Webdesign Projekte Alles aus einer Hand Eine der größten Stärken von onSite.org internet services ist Ihre Sicherheit, dass Domain Registrierung, Homepage-Gestaltung, Webdesign, Internet Programmierung, Webserver/ Webspace, online Shops und ebenfalls die so wichtige Suchmaschinenoptimierung aus einer Feder stammen und zentral von unserem Service für Sie betreut und koordiniert werden.
Domainnamen + Webspace für die Homepage anmelden, Internetseiten, Webserver, Homepage, Domain
Privatkunden & Geschäftskunden Reseller Es befinden sich keine Artikel im Warenkorb. Bestellvorgang Geschäftskunden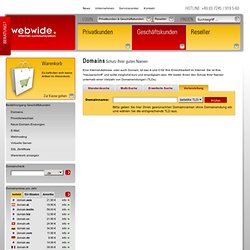 Domainsuche und Bestellung - Onlineshop der WebWide Internet Communication GmbH
Domain Check & Domains günstig registrieren / reservieren bei checkdomain.de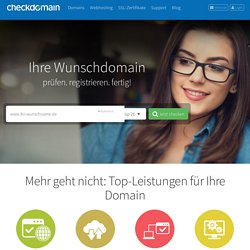 Neue Domainendungen Jetzt kostenfrei vorbestellen* Ab Anfang 2014 verfügbar vorraussichtlich mehrere hundert neue TLD Einfacher Domaincheck *Die Vorbestellung ist unverbindlich und kostenfrei. Sobald Preise und Richtlinien bekannt sind, können Sie die Vorbestellung verbindlich bestätigen. Webhosting Schnelle Server Programme auf Knopfdruck* Spam- und Virenschutz Traffic-Flatrate PHP, MySQL, Perl, Python und Cronjobs * ab dem Start Plus 4.0. z.B. Wordpress, PrestaShop, Drupal, Joomla schon ab 4,90 €/mtl. inkl. 19% MwSt.
Domain registrieren - Domain24
Jedes Mal, wenn Sie eine Domain registrieren, werden Ihre Kontaktdaten an die Registrierungsstelle übermittelt. Dort werden Sie aufgrund von weiteren vertraglichen Vorgaben in einen sogenannten WHOIS-Dienst gespeist, der für alle zugänglich ist. Ein Beispiel dafür ist der WHOIS-Dienst der DENIC für .de-Domains. Dort kann jeder nur mit Angabe des Domain-Namens dessen Inhaber herausfinden. Je nach Domain-Endung werden sogar die postalische Anschrift, E-Mail-Adresse und Telefonnummer angezeigt. Mit einer privaten Domain-Registrierung verhindern Sie dieses unerwünschte Ausspähen Ihrer Daten.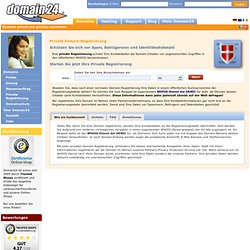 Private Registrierung - Domain24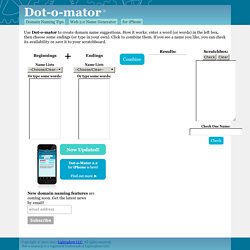 Use Dot-o-mator to create domain name suggestions. How it works: enter a word (or words) in the left box, then choose some endings (or type in your own). Click to combine them.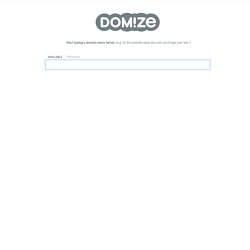 Quickly search a large combination of terms by entering a comma-seperated list of words, letters or numbers between a set of [square braces]. You can even enter multiple lists in a query. For example, type [red,blue,green][light,lamp] to search for redlight, redlamp, bluelight... etc Domize also provides a few list-generating commands: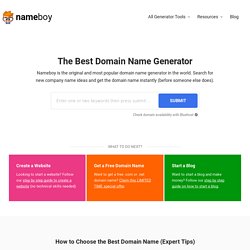 Domain name search - domain search. Find domains - available domain names lookup and website name generator. Nameboy, the ultimate domain name generator, website name generator and the best way to search domain names. Nameboy domain name search helps you find a domain name and register domain names.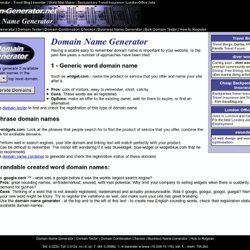 Domain Name Generator
Having a usable easy to remember domain name is important to your website. In the past few years a number of approaches have been tried: 1 - Generic word domain name